Television & Film
Top Political Ads Honored at Inaugural "Daisy Awards"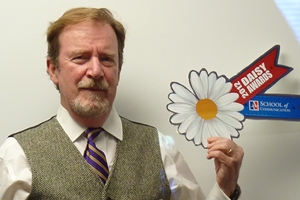 History was made on November 1st at American University. "Ladies and gentlemen, we're going to make history – we're going to vote for the first Daisy Awards," advertising-guru Drew Babb said to begin the ceremony. "We're giving them this year for the very first time, so you can tell your grandchildren that you were there for the very first ballot." 
The event's host was School of Communication professor Babb who teaches a class on political advertising for the school's Public Communication division. Babb approaches political advertising from a unique perspective: he's not a political consultant—he does real-world advertising.  
"I look at political ads as ads," said Babb. "…so I'm very critical of political ads, because I think really for the most part, they're not very good." But that's not to say they're not effective or powerful, according to Babb: "If you buy them in tonnage and carpet-bomb markets, they're very effective."  
Babb's very first class on political advertising last spring looked at ads during this election's primary season and graded them based on a metric developed by Babb. The ads listed on the Daisy Awards ballot included the ads that received the highest scores by Babb's class, in addition to what he considered to be the best of the general election ads.  
There were no criteria for voting on the ads; according to Babb, the audience was to simply be "recipients of the message" on which to vote—with no right or wrong answers.   
The ballot was separated into three sections: "Presidential Primaries & The Election", "The Down Ballot" (ads for Senate and Congressional races), and "Parody Political Commercials". Each ad was viewed on a big screen, and the audience was asked to vote for their top favorites in each category. At the end, the votes were tallied up and added to votes that had been placed online earlier in the week.  
Coming in first place for the general election ads was the Obama campaign's attack ad "America the Beautiful/Firms" against Mitt Romney. Second place went to Ron Paul's "Etch-a-Sketch" ad, third place went to Obama's "Big Bird" attack ad against Romney, and 4thplace went to Ron Paul's attack ad "Serial Hypocrisy" against Newt Gingrich.  
For the senate and congressional ads, first place was awarded to Clare McCaskill's "Diana, Rape Victim" ad against Todd Akin, and the runner-up was Allen West's "Two Men" attack ad against Patrick Murphy.  
"Mitt-Former" won the parody ad category with a landslide victory.  
The name "Daisy Awards" was inspired by one of the first-ever (and most controversial) televised political ads—what Babb refers to as "the mother of all attacks ads": Lyndon Johnson's 1964 campaign for re-election spot against Republican presidential nominee Barry Goldwater. The ad features a young girl picking the petals off of a daisy, counting as she goes. As her voice fades out, an ominous male voice-over is heard counting down to a nuclear launch. It ends with the visual of an exploding mushroom cloud and an appeal to vote for Johnson, "because the stakes are too high for you to stay home."