Television & Film
'From the Fields' to Capitol Hill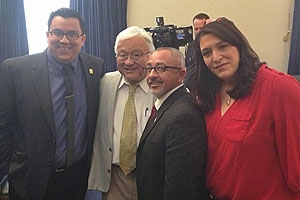 After being recognized for several awards, including a Gracie, an Orson Welles Grand Award and the CreaTV Award- Excellence in Directing  for the documentary and the directing, Carolyn Brown took her film From the Fields on a nationwide screening tour to select universities and institutions to share its story and message from March 7 through May 3. Damian Trujillo, whose story of success is the subject of the documentary, joined Brown.
The tour kicked off in California with screenings at Stanford University, the National Steinbeck Center in Salinas, CA, Trujillo's childhood home, and Trujillo's alma mater, San Jose State. The tour then proceeded to Northern Arizona University before making it to American University's very own Wechsler Theater. While in D.C., Brown and Trujilo were also featured at Georgetown University. Harvard University hosted the documentary tour in mid-April.
One of the highlights of the tour was a special screening on Capitol Hill in conjunction with Congressman Mike Honda and Congresswoman Zoe Lofgren in the House Office Building. The representatives were able to speak with some of Carolyn Brown's broadcast journalism students while relating the documentary to current discussions about immigration reform and the relevance of Trujillo's story.
Brown noted, "The Capitol Hill screening was a huge success. It was very timely considering the discussion of immigration reform.  I'm honored that my film would be considered as part of that discussion at such a high level."
The tour ended back on the west coast with a showing at Vista Verde Middle School in Greenfield, CA and a final screening at Oregon State University on May 3.
Brown found the nationwide documentary screening tour to be a major success, commenting "this screening tour has been a wonderful validation of my work."