Journalism
Students Help Post Launch New Way to Watch the News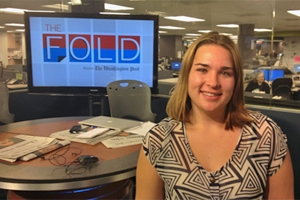 The Fold, Washington Post's latest news initiative, is a nightly newscast designed specifically for Google TV by the Post's newsroom. The Fold is the flagship program designed for PostTV, a new app that plays Washington Post video on Google TV. The program features Post reporters and newsmakers that deliver breaking news and original journalism about stories and people that shape today's issues.
Spearheading this initiative is Andy Pergam, former SOC J-Lab staffer, who is now the Washington Post video director. Pergam wanted to design a weekday video for the Washington Post's PostTV app and future connected-TV experiences that allowed viewers to get a full digest of the news by watching the entire show or by skipping directly to the stories that mattered to them the most.
"In creating The Fold, we wanted to re-imagine the nightly news," said Andrew Pergam. "It's our answer to being able to watch a summary of the news on your own time in as much or as little as you want, in a way that is always lively and engaging."
The Fold is also proof that SOC students are provided with the necessary tools to allow them to create dynamic innovations in communications. Four out of the six people who have helped produce and launch The Fold are American University SOC students or alumni. When you add in Pergam's status as an alum of SOC's J-Lab, SOC's impact is even more impressive. At launch, Ben Connors, SOC/BA '06, ran the show, alongside the show's producers Kristen Boghosian, SOC/BA '10, and Kate Musselwhite Tobey, SOC/MA '11 is also a former Investigative Reporting Workshop staff member. Boghosian has since left to work for NASCAR in Charlotte, N.C.
Current SOC student, Rachel Jacobs, SOC/BA '13, is this semester's Dean's Intern at the Washington Post and spends her time working hands-on with The Fold's production team. Some of her daily tasks include producing a couple of her own news segments and assisting with the day-to-day needs of production crew. Jacobs also has the opportunity to edit segments, work with studio equipment and film intros to some of the segments.
"The Fold has given me the opportunity to use and expand my video production skills in a professional environment at a nationally-branded news organization," said Rachel Jacobs. "The classes I have taken in SOC, and the producing I have done for ATV, has given me the technical skills and the confidence to be able to work alongside some of the Post's top talent."