First Person
All Internships Considered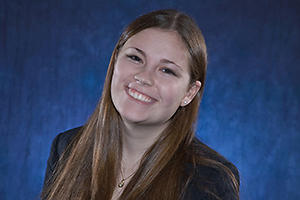 Below is a first person account from Dean's Intern Barbara Sprunt on her internship at National Public Radio.
"This is Barbara Sprunt, calling from NPR." Every time I say it, I can't help but smile. National Public Radio has long been in the background of my life - from tuning in to Car Talk on family road trips to listening to All Things Considered playing in my mom's kitchen. Through this Dean's Internship, I'm now able to experience the excitement of being on the other side of the radio waves.
I am SOC's Dean's Intern with Three-Minute Fiction at Weekends on All Things Considered. Three-Minute Fiction is a contest where listeners send in their original pieces of fiction that can be read in less than three minutes. Initially, I coordinated the administrative aspects of the contest – I reached out to writers, managed story submissions and judging, etc. I called the writers whose work would be featured on the show and asked them about the inspiration behind their stories. As my internship progressed, several different producers took the time to teach me new skills to broaden my experience and expand the scope of my responsibilities. With their guidance, I learned how to write radio scripts, record the introductions and stories for the Three-Minute Fiction segment, and edit audio recordings. Additionally, I now can lay out web content to be posted on the website and understand how to best use music to enhance a piece.
As an intern, I had a lot to learn coming onto the job. But the producers here are as generous as they are capable. Each person made me feel like a real member of the team, and provided plenty of guidance and advice. Each day, I became more confident cutting audio clips and tracking recordings – things I never would have imagined myself doing before this internship.
On my first day at NPR, I sat in on the weekly meeting and listened as team members went around the table discussing stories for that week's show. Who would be a good person to interview given the current political climate? Which arts piece would be the best feature for the upcoming weekend? How will all the different segments fit together? As I listened to all the ideas around me, I couldn't help but think, "This is really the news. This is where the action is."
This internship has been unlike anything I've experienced before. I'm not sure I can go back to listening to the news on the radio – I just want to keep being a part of it.