Journalism
'Half the Battle' Gives Voice to Returning Vets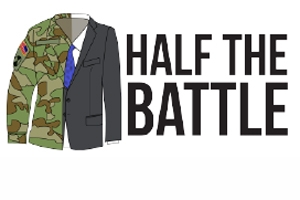 How does a soldier transition to civilian life? In "Half the Battle," a multimedia project conceived, reported and edited by American University journalism students, young veterans relate the challenges they've faced on that journey. The project was produced in collaboration with WAMU 88.5, the Washington, D.C., area's leading NPR member station.
This is the fourth time students in the Writing and Editing for Convergent Media class, taught by professor Amy Eisman have partnered with public communication professor Maria Ivancin to plan, organize, and execute a major journalism and public opinion project in partnership with a leading media organization. Past partners include Gannett Co., Inc. and The Washington Post.
The class unveiled the final product and website halfbattle2013.org at a presentation attended by representatives from WAMU, the AU Veterans Liaison Network, and SOC faculty and staff. Students detailed the work they'd done over the course of the semester, which included significant research, developing, conducting and analyzing surveys, multimedia reporting, designing graphics, and planning and executing a social media campaign.
A link to the project was posted on the WAMU homepage, wamu.org, the following week. Online managing editor Seth Liss explained, "We gave it good placement because the content is strong, relevant and interesting." He adds, "They took on a difficult topic. The project editors showed good leadership, and it was obvious that the class liked working together."
Video, audio and text stories tackled a variety of topics, from vets and video games to how local universities are scrambling to support student vets. Many stories and interviews were on intense topics including the tough job situation for vets, and the rough transition to the college classroom. There were some quick reads, too, such as the list of questions vets hate to be asked (No. 1: "Did you kill anyone?")
Rachel Rood, a graduate student, who served as the video editor, said "the main message the project wants to send is that what we think we know about veterans is not the entire truth, and [to get the truth] we should really just hear it from them." Half the Battle aims to give returning veterans a voice.
Valerie Verra, the veterans services administrator at American University, explained the impact of the project. "I truly feel that the vets have a greater voice now than they had before—this is a tremendous gift to them from all of you."
What makes the class so special is its ability to provide students with the independence and responsibility of taking on a real world project to gain first-hand experience. Zach Cohen, the assignment editor, says "a class like this is very valuable because it goes beyond the textbook and classroom and gives you direct hands-on experience to do real journalism."
After the presentation, Eisman told the class, "This is something to be proud of for the rest of your lives-- the ownership, intensity, and real-world nature of the project-- it's really special." Professor Ivancin praised the students as "the best class I have had the opportunity to be involved with—the level of passion, professionalism, and insight I saw in this group was incredible."