Internships
Senior Year Spent Breaking News at "The Fold"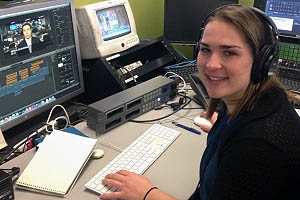 Below is a first person account from Dean's Intern Rachel Jacobs on her internship at The Washington Post's "The Fold". After graduation, Jacobs was offered a job with Gannett's Talent Development Program as a broadcast producer and has moved to Phoenix to work with NBC 12 News. Watch "The Fold" farewell to Jacobs.


"In 5…4…3…2…1…"

That's the countdown I give before I start rolling the teleprompter and recording the next segment for "The Fold."

Two days a week I ride the bus to Madison Place, the stop in front of the White House, to get to my Dean's Internship at the Washington Post. After the 9am department meeting, I help the producing team of "The Fold" for the rest of the day. I've been on the team for almost a year, and it has been quite an adventure.

From producing fun pieces on the cherry blossoms and an Oscar winner (who also happens to teach at the AU School of Communication) recounting his experiences to meeting, filming and editing interviews with top leaders and some of the nation's most influential news writers, I've grown both as a visual journalist and as a person.

I've seen how talented groups can come together and produce pieces under pressure, I've seen how new concepts and ideas can become reality and I've learned first-hand how web video journalism is changing the future of media and the digital world.

From Boston and Newtown to Election 2012 and Inauguration 2013, I have been on the fifth floor of the Post's headquarters for historic news stories and events. Under pressure of a tight deadline, I've been able to turn around video during these breaking situations. From Skyping in a producer who was a few blocks away from where the Boston bombings occurred, to editing hours of footage from Newtown, CT for a 6pm deadline, I've learned how strong content and bold visuals can truly make one story stand out from the rest.

As a graduating senior and a yearlong SOC Dean's Intern, I can confidently say the experiences I've gathered from AU and its D.C. connections have been priceless. I've had unparalleled opportunities compared to many students, which is something I will forever be grateful for.