First Person
Internship at Current Offers Glimpse into Future of Journalism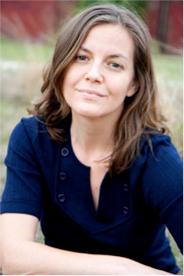 Below is a first person account from Dean's Intern Dawn Morgan on her fall internship at Current.
When you intern at a small specialty newspaper, be prepared to hit the ground running.
By the end of my first week as a Dean's Intern for Current, I was up to my ears in NPR. I attended the network's quarterly board meeting where crucial decisions about the network are made. I got a fast introduction to the people responsible for making the world of public radio go round.
Next came a crash course in media policy before attending a Federal Communications Commission meeting on the government agency's new (and complicated) plan to buy up bandwidth from television stations to auction off the open slots to the highest bidders in 2014.
But my favorite part of the internship so far has been interviewing radio and TV producers around the country on their latest projects. I spoke with folks at San Francisco's public media giant KQED about how the station became the first public media organization to publish both an e-book and iTunes University class, designed to educate the public on earthquakes.
And I learned how KQED's tiny counterpart, community radio station KALW, expanded its reach into the community with a radio experiment called Hear Here, in which community members tell stories about their neighborhood experiences instead of having reporters tell their stories for them.
To prepare for interviews with two long-time New York public television, I watched hours of Shakespeare. The Hollow Crown is a new cinematic version of the history plays Richard II, Henry IV Parts I & II, and Henry V, starring Ben Wishaw and Patrick Stewart, and the six-part documentary series Shakespeare Uncovered features celebrity hosts like David Tennant and Ethan Hawke dissecting Shakespeare's plays for the non-English majors among us, both on PBS in 2013.
Current is the only news organization that exclusively covers the world of public media, from PBS to the political battle over funding Big Bird, from NPR and its network of 975 subscriber and member stations to new online initiatives bringing public broadcasters into the digital age. At Current, an interview with Ira Glass might share a page with the latest appropriations news from Capitol Hill.
As print journalism spends more time online, I've also been able to contribute to Current's Facebook page and Twitter feed, and convert print stories for the Wordpress website. With a mere six editorial staffers, some who only work part-time, everyone in the small newsroom wears many hats, including the intern. The constant juggling of roles offers a glimpse into the future of journalism.