Achievements
Need a Website? You got It!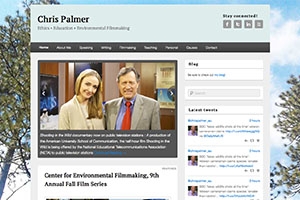 Caroline Weaver is an editor at the National Gallery of Art, where she works on both print and web projects. She is pursuing a graduate certificate in Digital Media through American University's School of Communication (SOC). Weaver holds a B.A. in English and French from Mary Washington College, where she also worked in the Ridderhof Martin Gallery, and covered the fine and performing arts for the school's newspaper. After earning an M.A. in French from the University of Virginia, she parlayed her love of language, art, and research into a career including positions on the reference staff of the Archives of American Art (Smithsonian Institution) and as a writer and editor for Kennedy Center/VSA. She has also written for DC Daily Candy and Women in the Arts magazine.

SOC sat down with Weaver, to discuss her work on a comprehensive website design as part of her Capstone project, a component of her final class in the Digital Media program.

SOC: Tell us about your Capstone project?

Weaver: Using the WordPress CMS (content management system), I developed a website for Chris Palmer (www.ChrisPalmerOnline.com). Chris is not only an award-winning film producer, he is also a speaker, author, educator, and an overall inspiring person who, by example, encourages others to engage meaningfully with work and life.

SOC: How is the project helping you reach your professional goals?

Weaver: I began my career in museums learning the nuts and bolts of publishing large scholarly illustrated catalogs. The first book I helped shepherd through publication weighed 10.4 pounds (more than many newborn babies). I love working in museums and I believe there will always be an audience for exquisite art books. However, the publishing landscape has changed. This project taught me how to use a dynamic digital publishing platform, a necessary complement to my print publishing skill set. I'm interested in shaping the future of digital art/museum publishing, and this project has acquainted me with some of the principles and practices that will help me do that.

SOC: What were some challenges?

Weaver: Work-school balance has been the most difficult. Fortunately, my colleagues at work have been very supportive, but that doesn't change the fact that there are still only 24 hours in a day. The course instructor, Nick Ray, helped me not to panic when I felt overwhelmed by deadlines. As far as technical challenges, Nick has been very forthcoming in helping me navigate some of the trickier aspects—initially I felt a little intimidated, but in the end, these challenges only helped me better learn the subject matter. It was simply a matter of casting apprehension aside and jumping in—and asking for help, when needed.

SOC: Can you tell us a little more about your experience with the Capstone instructor?

Weaver: Nick Ray has been absolutely great to work with. He is accessible and remarkably patient with those of us who have, shall we say, a less sophisticated level of digital literacy. I have the impression he is sincerely dedicated to empowering others through education, particularly about technology. It was a pleasure to work with someone expertise with others.

SOC: What was it like working with Chris Palmer?

Weaver: It was terrific. Chris is such a positive person and his energy is really contagious. He had a vision of what he wanted for his site, but he gave me a great deal of autonomy in putting it together. He knew what he wanted, provided thorough feedback and communication, and trusted me to do the work; he has been an ideal client! Also, by working on his site and reading his book (Shooting in the Wild), I became better acquainted with the ethical issues involved in wildlife and environmental films. I am proud to work with someone dedicated to ethical inquiry and raising awareness about best practices, animal welfare, and conservation issues. It has been an incredibly rewarding project in so many different ways, and I'm grateful to have had the experience.
___________________________________________________

SOC: What do you think Professor Palmer, why is this new website so important? And who is your target audience?

Palmer: I wanted to create ChrisPalmerOnline.com so people interested in my work would have one place to visit to learn about my filmmaking, speaking, writing, and teaching activities. The site is for anyone seeking my help, advice, or involvement; readers of my blog; those interested in filmmaking ethics; students; and anyone interested in the subject matter.
 
SOC: Share with us your thoughts about the experience.

Palmer: Working with Caroline has been extraordinarily positive and rewarding. I found her responsive, creative, results-oriented, and an absolute delight to work with. Her work of the project has been outstanding. She has performed with the utmost efficiency and effectiveness and I have loved collaborating with her.