Communications
AU Co-Hosts 2010 PRSSA Conference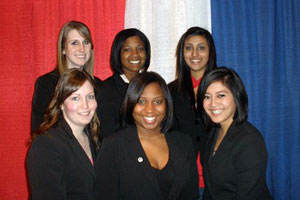 After a year of seeking sponsors, scheduling speakers, planning socials and promotion using every means possible, the AU chapter of the Public Relations Student Society of America hosted a national conference this weekend.
More than 1,000 students, some as far away as Argentina, gathered at the Marriott Wardman Park Hotel for two days of events planned by hosts AU, the University of Maryland and Howard University. For AU PRSSA chapter president Ashley Wolos and vice president of publicity & recruitment Jessica Noonan, the hosting has been a lot of work and a valuable experience. They asked and answered questions about the experience with chapter advisor Prof. Gemma Puglisi.
Q: What is the most important lesson you've learned from your role as conference co-director?
Jessica Noonan: I've learned to manage a team, plan an event and manage my time like I never knew I could; however the most important lesson is that planning ahead pays off! Our committee created timelines, specifically for fundraising. It was helpful to have goals because we all knew what to focus on first. I never realized the amount of work and time that go into planning such a large-scale event. Now I am thankful for having a team that was able to get everything done on time.  
Q: What do you hope the each of the 1,000 attendees take away from the conference?
Jessica Noonan: I hope that all 1,000+ attendees will get a feel for the public relations community in Washington, D.C. Our conference was designed to give PRSSA members a sense of the opportunities available here. The conference theme is "The Capital Connection: People, Press and Politics," and I believe this is reflected in our events and speakers. 
Q: What part of the conference are you most excited about?
Jessica Noonan: I am thrilled about the Friday night social at which we will showcase cuisine from numerous nations. The social is an opportunity to network and get some feedback on the conference. I am also really looking forward to the Career Exhibition that will feature 34 employers from the D.C. area and other states. 
Q: As communications director, how has the conference affected your involvement in social media?
Ashley Wolos: Social media is a constant part of my life now! Over the past year, I've relied on Facebook, Twitter and Flickr to promote the conference and engage members from over 300 chapters across the country, Argentina and Mexico. I've learned how to host a Twitter chat, connect with our speakers and have fun with it.  
Q: In what ways has planning the conference been awarding and in what ways has it been challenging?
Ashley Wolos: The most rewarding part is yet to come! I can't wait to see everyone enjoy the conference and make all of our hard work worth it! The most challenging part has been to keep up with the social media. I'm always responding to the latest tweet or Facebook message but that's also my favorite part. It's been an amazing opportunity to connect with so many PRSSA members who I otherwise wouldn't have had the chance to know.  
Q: What part of the conference are you most excited about?
Ashley Wolos: I'm most excited to hear from this year's keynote speaker, Jim Margolis of GMMB. He served as senior advisor to President Obama's campaign and I'm sure will have great advice as will our 60 other speakers. There really will be a session for every interest.  
Q: As part of the annual conference, a full-day "Educators Academy" is held. Why was AU/SOC chosen to host the PRSA Educators Academy? What do you hope PRSA professionals will take away?
Gemma Puglisi: I'm honored that they came to AU to host some of the conference. The Educators Academy is providing various seminars for teachers to improve their classes and understand the latest trends in our field. For AU, it's a great opportunity for these academics to see our campus and see some of the work we do.  
Q: How is AU involved in the national Public Relations Society of America conference (for professionals) which begins on Sunday?
Gemma Puglisi: AU's a capella group "Treble in Paradise" will open the national conference Sunday by singing the national anthem.