Journalism
Merriman Winner Brings Energy, Talent to Journalism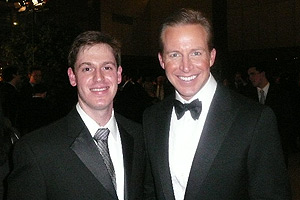 Journalism graduate student and Center for Public Integrity fellow Jeremy Borden was selected as the 2011 winner of the Merriman Award, an honor named in memory of the CBS news writer John Merriman who was president of the Writers Guild-East.
"I'm really humbled by it," said Borden. "It is something, of course, I would never expect, and it is beyond kind of AU and the Writer's Guild to even offer an award or an opportunity like this."
He traveled to New York City to accept the award at the 63rd Annual Writers Guild Awards on Feb. 5, which included a $1,000 check. Borden says it was fun to be thrown into a situation where he met people he would never have otherwise met.
"It's great to be in a room of writers like that. These are the people that shape both popular culture as well as how world events are perceived," he said. "How often do you get to put on a tux and go to a New York cocktail party?"
Journalism division director Jill Olmsted said Borden has what it takes to be a fantastic journalist. "Jeremy challenges journalism to be better and has great energy and talent that he brings to the profession, he is already making us proud." 
Borden says the School of Communication journalism program is a practical, hands-on program; so honing skills like video editing and story construction are a big part of it. "After a few years in the field it's been nice to step back and sort of remember why we, as journalists, do what we do and why it's important," he said. "The professors at AU obviously have a lot of passion for what they do and it's contagious."
He says he loves working as a CPI fellow. The fellowship gives him 33 credit hours in tuition remission as well as a stipend.  "This is the type of in-depth reporting I hope to pursue, in one way or another, throughout my career," said Borden. "It is definitely a good deal, which is understating it quite a bit. The fellowship made it an incredibly easy decision to come to American."
SOC celebrated a second win that night, when Investigative Reporting Workshop senior producer Rick Young accepted an award for the FRONTLINE documentary "Flying Cheap." The Workshop, one of SOC's groundbreaking academic centers, is only the second university-based project to partner with PBS's investigative series.
The Guild Awards are given for outstanding achievement in writing for the screen, from news to sit-coms and dramas, presented at simultaneous ceremonies in New York and Los Angeles. Kristen Schaal from the Daily Show and Flight of the Concords hosted the New York event this year.