Communications
High School Students Flock to AU Communication Program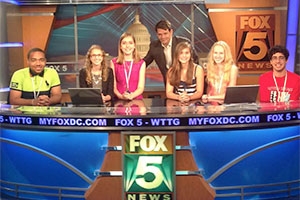 With a network of more than 3,000 alumni and growing, American University's Discover the World of Communication program offers high school students insight into the field of communication.

In its eighteenth year, DWC, an AU School of Communication initiative, provides a solid foundation for future college students and professionals, no matter what field they ultimately choose to enter. DWC Director and Film and Media Arts Professor Sarah Menke-Fish says, "Communication skills are a vital part of every job. Through this program, students experience and participate in a hands-on learning opportunity. They produce a real product for a real audience, frequently serving as a portfolio piece for the student's college application."

DWC offers a dynamic curriculum tailored to students passionate about communication. The 2013 section of DWC now offers 35 courses over two–to four–week workshops, allowing students to select courses suited to their interests. New courses offered this year include Special Effects for Video and Commercial Production Techniques. The highly popular Music Entertainment Production course is returning for a second year.

The DWC program offers a valuable distinction from the traditional high school academic curriculum. According to Menke-Fish, "The project-based focus of the program allows students to take an academic and creative risk – to succeed or fail. We teach them how to fix problems and rebound from failure."

Over the past two decades, Menke-Fish has grown the program from one summer class in scriptwriting and video production which she taught with 8 students to the 70 academic sessions offered this year, with 600 students participating on American University's Campus and at UC Berkeley. 
This year, DWC garnered national attention, having recently received a $10,000 grant from The Academy of Motion Picture Arts and Sciences, to sponsor the Student Filmmaker Scholars Program. 
Menke-Fish said, "This funding will allow us to reach students who have not traditionally been able to participate in DWC. We are fortunate to have such an interesting and culturally diverse group. The program excels in pulling together a tapestry of students from all over." This year, students hail from 40 states and 17 countries including: South Africa, Indonesia, India, Australia, China, Germany, Greece, Italy, South Korea and Turkey.

DWC maintains strong ties with students and alumni. More than 100 current AU students are DWC graduates. Menke-Fish attributes this success to the strong academic, social and experiential opportunities the students have in DWC as well as the professional development students receive while part of the program.

Discover the World of Communication provides prospective students and future professionals a unique opportunity and invaluable learning experience, designed to fuel their passion and creativity for communication. Menke-Fish adds, "DWC is a huge component of what differentiates AU from other schools and an example of its commitment to excellence."