Journalism
AU Students Seize the Moment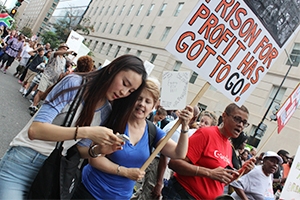 Students at American University's School of Communication followed a crowd of thousands as they walked to commemorate the anniversary of the March on Washington.

"We Shall Overcome" and patriotic songs echoed through the streets. March participants held hands. Some walked with arms locked. They all followed the steps of Martin Luther King, Jr. and more than 200,000 of his followers to the Lincoln Memorial where he delivered his famous "I Have a Dream" speech.

"I've always heard how America was a free country, but I've never seen this before," said Lola Xiawei Yang, an international student from China. "I see it today. I'm witnessing the American Spirit."

Yang dodged between people in the crowd with a notebook in hand while snapping pictures with her iPhone. She stood on newspaper stands and park benches and hung from street lights for a better angle. It's a unique opportunity to practice journalism only available for students in Washington, D.C., she said.

"You have to be in the parade to experience this," she said as her classmates stood nearby speaking to march participants. "I hear their voices."

The event was a collaborative multimedia assignment for two journalism graduate classes, Reporting of Public Affairs taught by assistant professor Angie Chuang and Online News Production taught by associate professor Andrew Lih. The classroom serves as a newsroom where students complete projects using a variety of resources from personal phones to digital cameras. Through this approach, students really learn to do it all, to experiment, and to collaborate.

Washington, D.C., became the classroom during the landmark March on Washington event as the students captured marchers who continued a perpetuating dream of equality spoken of by Martin Luther King Jr. 50 years before.
"If it wasn't for this class, I wouldn't have gone to the march," said Peola Thomas, a graduate student in the Reporting of Public Affairs class.

She reviewed images she captured with her HTC mobile phone for a digital story comparing the march in 1963 with events this week.

"What progress has been made?" Thomas said as she pointed to video footage she was editing with a classmate. "We hear from them."

The march was the second assignment of the year, but it has been one of the most intense and exciting, Mary Bowerman said as she reviewed footage she shot. The video was her interview with the president of the Colorado Springs NAACP. She met him in the crowd and interviewed him steps away from the Capitol.

He spoke of a movement that began with African Americans that has grown beyond ethnicity, said Bowerman. It's more about unity.

Bowerman said she attended another March on Washington commemoration sponsored by the National Action Network on Saturday. She was closer to the Lincoln Memorial where she witnessed participants so overcome with emotion they cried.

"I was just moved by the people who were at the first march," she said of older generations who returned for the 50th anniversary. "They came back because it was almost like unfinished business."

The two classes relied on some of the skills acquired from their digital short courses from the beginning of the year to complete the assignment. It's now a race to a deadline, but it's also a moment students have to capture the voices who have transformed the nation.