Television & Film
High School Students Discover D.C. and Costa Rica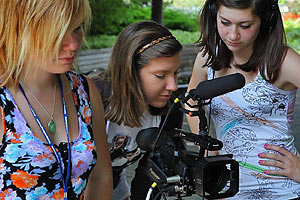 High school students from 39 states and 12 countries gathered on American University campus this summer for the School of Communication's Discover the World of Communication. The hands-on, interactive program introduces high school students to a field that includes everything from weather broadcasting to screenwriting. While not in class, students get an insider's view of Washington, D.C., neighborhoods and landmarks.

This year, for the first time, students interested in environmental filmmaking or photography got an opportunity to learn the craft and put theory into action in Costa Rica working with SOC professor and Emmy award-winner Larry Engel. 
After a week of research and pre-production, students in the Discover program traveled to Costa Rica for two weeks to produce and shoot wildlife and environmental mini-documentaries. Now back on campus, the post-production work is underway, and the films will have their U.S. premiere on July 15 at the Costa Rican Embassy in Washington, D.C., before being featured in Costa Rica's Manuel Antonio National Park. 
Chelsea Powers said she couldn't believe their film will be featured in Costa Rica's National Park. "It's such a great opportunity," she said. Powers also said there was one thing that surprised her while working in Costa Rica. "Talking to complete strangers is not as scary as it seems," she said. "At a certain point you get so involved in what you're doing, the other stresses of life seem to go away."
Kavita Myneni said the program has inspired her to continue her pursuit in photography. "Being a photographer, whether environmental or not, is my dream, and it is something I will be doing forever."
Students who stayed in Washington, D.C., visited the American Film Institute, National Geographic, the Newseum, NBC, National Press Club, and other communication organizations in Washington, D.C. 
They also got a feel for local culture, taking trips to see the Washington Nationals play baseball, visiting local landmark Ben's Chili Bowl and Meridian Hill Park, catching outdoor concerts at Fort Reno and checking out attractions in Capitol Hill, Georgetown, Eastern Market and the Navy Yard. You can see highlights of their experience on the program's daily video blog.

Now in its sixth year, Discover the World of Communication is directed by its founder Sarah Menke-Fish, a documentary filmmaker and master teacher in the School of Communication. She serves as associate director for the Center for Environmental Filmmaking and in 2005 was selected Faculty Member of the Year by the AU Student Confederation.