Internships
Alsup's Internship at NPS, Too Good to Be True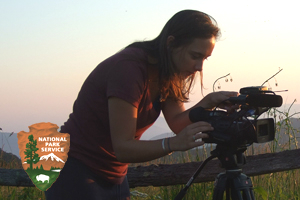 Below is a first person account from Dean's Intern Regan Alsup on her internship at the National Park Service. Alsup's summer internship has been extended through the fall so stay tuned for the next installment of her adventures with the National Park Service.
Imagine waking up to a sunrise at the top of a mountain in Great Smoky Mountain National Park. The view from the porch of the house shows nothing but other mountains in all surrounding directions and the only audible noise is that of the chirping birds announcing the arrival of the morning. You grab your camera because that is the only way you can possibly even hope to describe the peace and beauty of this place. It won't be enough, but at least you can try.
Now imagine getting paid to do that. Too good to be true, right? I agree. But that is how I spent a week this summer as part of my Dean's Internship with the National Park Service.
This summer I have been part of a project to develop a climate change video series targeted towards National Park Service (NPS) interpreters and rangers. The ultimate goal is to better train park rangers on the topic of climate change science and how the parks are being affected by climate change. With this they can then better educate the public about those issues. One segment of that series is focused specifically on climate change within Great Smoky Mountain National Park. I was charged with planning, filming and editing an entire 9-minute instructional video on that topic, along with a number of small interviews and video projects. While other interns were busy making copies and planning catered lunches for their jobs, I was interviewing phenology experts (phenology is the timing of ecological events such as when plants bloom and birds migrate—a new vocab word for me too!), and, as I've already described, spending a wonderful week filming in the mountains.
Coming into this internship, I'll admit I had no idea what I was getting myself into. But when I showed up to the office on my first day to find out I was the only person working in the DC area within the Park Service's Climate Change Response Program with any filmmaking experience, I soon realized that the experiences and exposure I would take from this Dean's Internship opportunity would be invaluable. This has never really been an "internship" and I have never really been an "intern". Being selected as an SOC Dean's Intern, I have been treated by NPS as a young professional and been trusted with the full responsibility that comes along with that designation. I could not have asked for a more fruitful experience. The chance to spend a week filming in the Smokies may have been the most outstanding highlight of this internship so far, but my time working for the National Park Service has meant far more to me than just that one week. As I continue this internship into the fall semester, I am excited for the things to come. Up next? Interviewing the Director of NPS!
The Dean's Internship program pairs SOC's top students with selected partner organizations for semester-long, for-credit internships. The competitive program provides extraordinary opportunities for undergraduates and graduates to have their work featured with named credits and bylines under national brands. Find current opportunities and application information.