Journalism
Building an NABJ Chapter at AU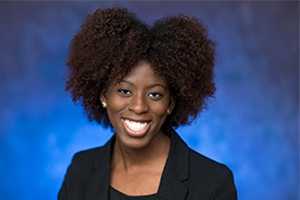 Update 6/6/14: NABJ has officially approved the American University NABJ chapter application.
American University will have a new National Association of Black Journalists chapter next semester, if students have their way. School of Communication professor John Watson is the faculty advisor for the precursor to a chapter—currently called the AU Association of Black Journalists.

"A student [NABJ] chapter at American University is long overdue," said Professor Watson. "NABJ has existed for nearly four decades without a face on this campus, even though the School of Communication, particularly the journalism division, has been supportive of its mission and diversity goals."

Watson sees it as a great opportunity for up-and-coming journalists who want to give themselves an extra professional boost.

"An NABJ student chapter would enhance the skills and ethics preparation for aspiring journalists and provide them with proven connections nationwide with potential employers," Watson said.

SOC sophomore, Brianna Williams is one of the club's founding members and president. According to Williams, NABJ at AU could help African-American students hone in on their journalism and networking skills by attending panels, seminars, and workshops that feature professionals in the field of journalism.

Williams started the club after feeling a lack of multicultural support when it came to career planning. "I feel like there can never be too much community," Williams said. "I see NABJ as a way of bringing together a different type of community."

Williams hopes the club will become an official chapter of the NABJ by the Fall 2014 semester. She and other executive board members have received positive feedback and more than 25 students have shown interest since their mid-February informational meeting.

Watson joined AU's Association of Black Journalists as an advisor after being approached by students.

"They have convinced me they have the drive and determination to make the chapter a reality. I have signed on to be the chapter's adviser and I have written to the national office of NABJ urging formal approval for a student chapter at AU. I have known there was a need for the chapter, but now I am optimistic there are enough students ready to establish and maintain it," Watson said.