Communications
Take Action this World Food Day, Urges Professor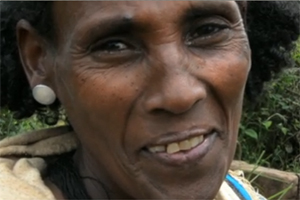 Caty Borum Chattoo is trying to bring attention to world hunger by doing what she likes to do best: working with a team combining facts and policy proposals with how they impact real people to tell a compelling story. The School of Communication professor's latest project -- part of the ViewChange global development documentary series from independent broadcaster Link TV -- is a half-hour special jointly produced with international humanitarian and relief organization Oxfam America and Link TV "ViewChange: Africa's Last Famine" that disputes the notion that famine is simply caused by a lack of food in the global supply. The show was created with a team of producers from both Oxfam America and the Link TV ViewChange team, including Chattoo.
Produced to provide new insight into global hunger and global food production in recognition of World Food Day (October 16), the program features the story of one Ethiopian mother and farmer, Medhin Reda, who is using weather insurance to withstand periods of drought. Through interviews with Francis Moore Lappe?, the award-winning humanitarian and bestselling author of Diet for a Small Planet, the show takes a hard look at food justice. According to Moore Lappe? in the documentary, "the world produces more than enough for all of us to thrive…the real crisis is the crisis of human relationships, how we share in power."
As Chattoo says in a Huffington Post article, "[T]his is what Oxfam, one of the groups leading the humanitarian relief efforts in East Africa -- already knows. But without continued calls for funding and media attention, we'll continue to see cycles of drought and famine and more, as the planet struggles to cope with the population explosion and extreme weather patterns."
The team at Oxfam America and Link TV believe their work can be instrumental in the effort to bring attention to that hunger crisis and helping to encourage potential activists to sign an online petition or learn more about how they can take action.
The premiere of "ViewChange: Africa's Last Famine" is part of Link TV's ViewChange.org site and ViewChange documentary series, which provide powerful, evidence-based videos that demonstrate progress in global development and the UN Millennium Development Goals, along with the latest news and action opportunities for users. ViewChange.org is working with non-profit organizations, film distributors and individual filmmakers to combine at one site documentaries, news reports and viewer-generated films of varying length and style.
With the help of next-generation semantic Web technology, videos are linked directly with the latest news and most recent social actions so that users can search for specific topics, watch real stories from around the world, learn the latest news (from more than 12,000 news sources around the world) and take action.
The documentary is available to view and download online at www.ViewChange.org and www.oxfamamerica.org, and it premiered on Link TV on Friday, October 14 (7 p.m. EDT) and airs again on Tuesday, October 18 (11 p.m. EDT) on DIRECTV Channel 375 and Dish Network Channel 9410.