Communications
Chris Matthews Joins AU for JFK Speech Panel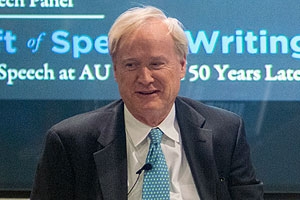 An American University panel-led discussion by MSNBC's Chris Matthews and the announcement of the winners of a student speech writing contest, both sponsored by the School of Communication, marked the start of a university-wide celebration of the 50th anniversary of John F. Kennedy's commencement speech at AU.

Matthews, host of NBC's Hardball, assumed the role of moderator as part of a panel celebrating the speech. It is widely regarded as one of the finest political and foreign policy speeches and one that had a major impact in limiting the proliferation of nuclear arms.
"I'm so proud to be here at a time when we can call attention to JFK's remarkable achievement, the role played by his great speechwriter, and American University's association with history," SOC Dean Jeffery Rutenbeck told the packed house.
WATCH: Videos of the 50th Anniversary of JFK's Speech at AU
Matthews, a former speechwriter for President Jimmy Carter and author of the biography, Jack Kennedy: Elusive Hero, was joined by SOC adjunct professor Bob Lehrman, a former speechwriter for Vice President Al Gore, journalist Marvin Kalb, who covered the speech for CBS, and Adam Frankel, former senior speechwriter for President Barack Obama.
The panelists agreed on the speech's significance. Kennedy's heroism in World War II gave the speech added resonance, Frankel said. "Coming from a war hero, the speech had that much more power."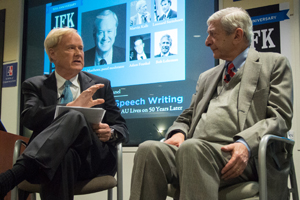 Matthews recalled how frightening the Soviet Union was in the days when he was growing up, mentioning drills teachers held in which students hid under the desks to protect themselves in case nuclear bombs fell on Philadelphia.
Lehrman, who has used the JFK speech in the speechwriting course he created at AU, said that the most unusual thing about the speech was JFK's "refusal to demonize the enemy."
MORE: JFK's AU Speech: 50 Years Forward on Peace
After the panel, Rutenbeck announced the winners of SOC's "What Would a JFK Say Now?" speechwriting competition.
"This contest was great to do because you can see how many students at AU are already thinking about using communication to have a direct public impact," Rutenbeck said.
Panelist Frankel and Desson Thomson, (SOC/BA '80), speechwriter for the Obama administration and former movie critic for The Washington Post, judged the contest.
SOC, West Wing Writers, the White House Writers Group and Lehrman underwrote awards of $500 to the winner, Ryan Migeed, (SOC and SPA/BA '15), $300 to the second place finalist, Trevor Alford, (SOC/MA '14), and $200 to the third place finalist, Alannah Johnson, (SIS/BA '13,) in honor of speechwriter Ted Sorenson.
"All of them," the judges commented, "demonstrated moments of flair that could find their place in any great speech."