Communications
News Legend Couric "Sparks" Students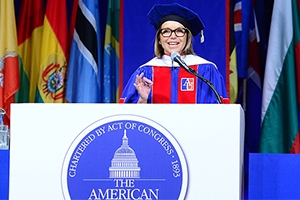 Award-winning journalist and TV personality Katie Couric won cheers and applause from students, faculty and guests for her witty and inspiring address at the 2014 School of Communication commencement ceremony Saturday, May 10, at American University. Couric received an honorary Doctor of Humane Letters degree. Watch video

Couric told students that the transformations in today's media landscape should not be feared. "You are entering the professional world at a time of breathtaking change and uncertainty. But I am very excited about the future. And I think you should be too."

Couric personalized the speech by crowdsourcing questions from students. Her expansive career and personal experience balancing career and family provided much to draw from in her responses. In addition to sharing her hopes for the future of communications, she related personal successes and stumbles, and gave new meaning to the word "gravitas."

In November 2013, Couric joined Yahoo as global anchor, where she will help develop Yahoo News' coverage, report on live events, and anchor groundbreaking interviews with major newsmakers. Couric is also host of Katie, a daily syndicated daytime talk show that premiered in September 2012.

In September 2006, Couric joined CBS News and became the first female solo anchor of an evening news broadcast after a 15-year run as co-anchor of NBC's TODAY show.

"She's a giant in her field, an experienced journalist, storyteller, well-connected to the issues and the concerns of today," said Dean Jeff Rutenbeck.
The struggle for work/life balance was a hot topic among students, and Couric was passionate as she spoke about the challenge. "For me, at least, it has required periodic reassessments of how and where I'm spending my time and a recognition that when things ARE out of balance I can figure out ways to right the ship."

A Washington Metropolitan Area native, Couric was inspired to go into journalism largely because of her father, John Couric, who was a reporter throughout the South and Washington during the 1940s and 1950s.

In her address, she recounted how he received his master's degree in communication from AU in 1968 and how much he enjoyed serving as an adjunct professor of journalism and public relations in SOC's graduate program for many years.

Couric also shared how she became a well-known cancer advocate after losing her husband to colon cancer, using her visibility to raise both awareness and funds. Couric is also executive producer and narrator of Fed Up, a documentary about the alarming spread of childhood obesity, which premiered May 9.
She closed the speech by challenging students to strive to make a difference, on a daily, personal scale. "Changing the world doesn't happen all at once. It isn't a big bang. It's an evolution, the sum of a billion tiny sparks. And some of those sparks will have to come from you."

"Katie Couric's depth of experience, professional success, and triumph over personal tragedy are all a testament to the values and mission of the School of Communication," said Rutenbeck. "Our students are thrilled to have her as the 2014 commencement speaker."
Students also heard from graduating students Angeli Gabriel, who received her Master's in Film and Video, and Barbara Sprunt, who received her BA in Public Communication.

Families and friends who could not make the ceremony can watch video of the speeches on the American University website and join the conversation on Facebook, and tweet during commencement using the hashtag #2014AUGrad.