Journalism
Graduate Says Empathy Key to Communication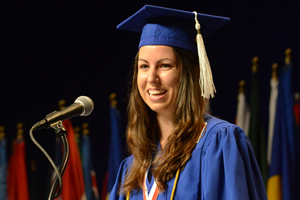 Lindsey Anderson, the undergraduate speaker at the 2012 School of Communication commencement ceremony, exemplifies the SOC ideal of academic excellence paired with hands-on, professional experience.
She also embodies American University's strategic goal to "reflect and value diversity." "That diversity is the beauty of AU. It brings people together from different corners of the world, different religions, different political spectrums. But somehow, no matter our backgrounds, we attempt to understand each other," Anderson said in her commencement speech. "AU has been an exercise in empathy."
Her speech drew applause, and also a job offer from SOC's invited commencement speaker, Associated Press CEO Tom Curley.  Before beginning his own address, he offered her a position on the spot because he was so impressed with what she said.
Anderson received her bachelor's degree in Journalism with minors in Spanish and International Studies, earning a 3.94 GPA and graduating summa cum laude. She was recently inducted into Kappa Tau Alpha, the national honor society that recognizes and encourages high academic achievement in journalism and mass communication and is a semi-finalist for a Fulbright grant to conduct a multimedia journalism project on domestic violence in Peru.
As if this weren't impressive enough, Anderson was also Editor in Chief of The Eagle, AU's student-run newspaper her senior year. Under her watch The Eagle won three regional Society of Professional Journalists awards, spanning from first place in feature writing to third place for breaking news photography, and is up for a national award.
During her tenure, she added more editors, instituted weekly critiques, and personally worked with writers to make sure stories were as accurate as possible. She met with campus leaders and was an advocate for press freedoms and accountability.
"Lindsey set a very high bar for a student editor. She was a skillful leader who set high expectations and worked with her staff to meet them. At the same time, she created an atmosphere in which students felt welcomed and were enthusiastic about contributing to the important work of The Eagle," says Adell Crowe, coordinator for student media and communication.
SOC Journalist in Residence Lynne Perri first met Anderson when she was a freshman in an honors Writing for Mass Communication class Perri was teaching. "[Anderson] stood out from the get-go — better questions, eager participation, smart ideas. I couldn't believe she was so young. I left the classroom and got in touch with an editor friend of mine at USA Today and said I'd like to send someone his way. I then encouraged her to apply for an internship, which she did and which she got."
Anderson has also been an online content intern at Washington Post Live and has written multiple pieces for the Post's Style section.
But she didn't let her dedication to The Eagle or outside internships impede her academic performance. 
In her junior year, Anderson, as part of Amy Eisman's convergent media class, developed a project, "Growing Up in the Shadow of 9/11."  The project looked at the impact September 11, 2001 has had on the Millennial Generation, and was coincidentally released days before the announcement of Osama Bin Laden's death.
In her commencement speech, Anderson remembered what happened next. "College students across the country celebrated. Hundreds of D.C. students drove, bussed, ran down to the White House, ecstatic. And adults across the country didn't understand why. News organizations like The New York Times and The Washington Post turned to our project for answers, to understand the celebrations. And we had the answers. Because we had listened, we had empathized."
Another project that required deep empathy was her honors capstone, "Sexual Assault on D.C. University Campuses." Perri served as Anderson's capstone advisor.  The topic was investigating sexual assault incidents and services at D.C.-area university campuses. It included a website, a 2,000-word article examining rape, assault and what it has been like for young women trying to deal with what is often a lack of support for their situations; and a series of photos and other multimedia components.
She also published much of it in The Eagle.

Looking back on Anderson's four years, Perri observed, "[S]he has really made her mark. I think she knew what she wanted when she arrived, but that the intervening years shaped her, particularly her study abroad, into deeper thinking about how to use her writing and research talents."  Crowe offered a more personal reflection. "I already miss her!"