First Person
Greenberger Builds Portfolio at Discovery Internship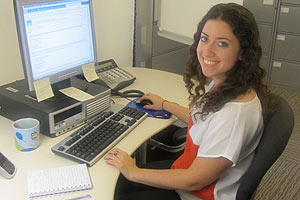 The Series: We reached out to American University School of Communication students and recent graduates who are spending this summer advancing their careers through a new job or internship, and asked how they got there, what they're learning, and what advice they have for others. We're sharing the responses in our summer series, "SOC Suits Up for Summer".


Emily Greenberger found out about her internship at Discovery Communications through a tip from her professor Pallavi Kumar. She says while working during Shark Week two celebrities tweeted Discovery, prompting Greenberger to engage with them via social media.

Q: How did you find your internship?
A: A lot of students in SOC have internships at Discovery every semester, so I had heard what a good program it is. But I didn't apply until my PR Case Studies professor, Pallavi Kumar, notified our class about the position, and then personally recommended that I apply.
Q: What skills that you learned at SOC do you use in your internship?
A: Not to be trite, but everything! I can genuinely say that my SOC experience so far has provided me with guest speakers who share great advice for interviewing, networking, and actually working at a major communications firm; great lessons about how to marry traditional and new media; and experience through projects that have taught me how to strategically and creatively use new media in communications.
Q: Describe your internship duties/"day in the life" at your internship.
A: Since I'm on the social media team, I do a lot of maintaining spreadsheets, monitoring metrics and drafting Facebook posts or Tweets. My boss is really generous about letting me sit in on important meetings - I love hearing brainstorm sessions about how to promote a season finale or special event! The intern program itself coordinates meetings with important people in the company weekly, and those meet-and-greets are where I pick up great nuggets of information about the company, the industry, or life/work experience.
Q: What is the most challenging aspect of your internship?
A: This is probably true of most internships, but the biggest challenge is getting used to all the new lingo and technology that everyone at the company uses. I keep thinking to myself, "you have to get the hang of this and keep up. You can't stop an international company from running just because you can't figure out how to use this media platform." But my friends, family, and co-interns remind me that everyone is new at some point, and everyone understands that this is a learning experience.
Q: What is the most valuable aspect of your internship? 
A: I love that my boss and social media teammates put trust in my work. They give me projects that aren't typical "intern work," and I see the results of my work. This builds my portfolio, and it smacks my fear and hesitation out of the way and makes room for confidence in my ability to produce good work.
Q: What made you trade of "vacation" for an internship?
A: As much as I would love to be on the beach, iPod plugged in and sun shining down, I realize the importance of internship experience, and I'm incredibly grateful that I get the chance to get that experience at such a cool, fun, relevant, and exciting place as Discovery. I get to do a lot of work for Shark Week, something I look forward to every summer, so I have a lot of passion for the projects I'm working on.
Q: What are your plans post-internship?
A: Run the world, of course! I'm staying at Discovery Communications through the fall semester, and after that, it's all about the hustle. I want another killer internship during my last semester at AU that will hopefully lead to a job post-graduation.
Q: Any tips for others looking for an internship or job in your field?
A: Networking. It's what people in PR do. Build relationships, maintain relationships, and when a connection isn't the right fit for you, don't be afraid to pass on your inside information to someone who might be a better fit.
Q: Any stories you'd like to share?
A: One day, I was using a platform to monitor what people were Tweeting about Shark Week, and I saw that two celebrities mentioned us. I alerted a teammate, and we got to engage with those celebrities through social media. I like to say that "I talked to them," even if it was via @SharkWeek tweets.