Achievements
Lehrman Wins Literary Award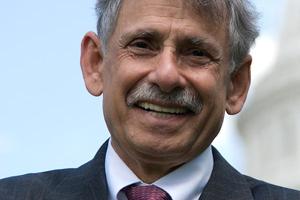 In the '60s, he wanted to write fiction, studied at the famed University of Iowa Writers' Workshop with Kurt Vonnegut and Richard Yates, and went on to publish some award-winning novels.  
But then Bob Lehrman began working in political speechwriting, including a stint as Chief Speechwriter for Vice President Al Gore in the White House. He became known as a speechwriter and teacher at American University; his nonfiction book, "The Political Speechwriter's Companion"  has become the must-read book for those wanting to write political speeches in either party.

Something had to give, though. It did. Lehrman's fiction.

Until this month. 

Deciding to return to writing under his own name after almost two decades, Lehrman wrote a series of major magazine articles this year.  And last week, the School of Communication Adjunct Professor's short story won him a coveted First Prize in the keenly competitive—and lucrative—Narrative Magazine Winter 2012 Story Contest. 

Lehrman won the $2,500 First Prize for "Hostile Encounters," his story of a Congressman caught up in scandal and the relationship with his teenage son. 

Founded in 2003 by novelists Tom Jenks and Carol Edgarian, and called "the gold standard for online literary magazines" by Esquire, Narrative has become known for its innovative approach to furthering literary fiction, as well as its policy of publishing both well-known and new writers. Contributors include Alice Munro, Joyce Carol Oates, Ann Beattie, Tobias Wolff and many others. 

"Robert Lehrman's winning story is a thoughtful and dramatic exploration of the conflicts between moral values, personal loyalties, and political expediency in the highly charged atmosphere of the Congressional Minority Whip's office," Narrative editor Tom Jenks noted. "Lehrman writes with an insider's knowing and an everyman touch that make for a fascinating story." 

"I'm more than gratified," says Lehrman, who cut down his speechwriting load this year in order to write under his own name, and has just about finished a novel.  
Lehrman pointed out that while most literary journals have only a few thousand readers, Narrative now has about 150,000, attracting them not just for the stories it runs but the articles about writing. 
"This isn't just winning a contest," Lehrman said. "For serious stories Narrative's have become the contests."  
"He's not just an award winning writer. He's a great teacher," commented Professor Leonard Steinhorn, after hearing of the award. Director of the Public Communication Division at SOC and the one who recruited Lehrman to teach at AU, Steinhorn said "Both stem from Bob's passion, compassion, insight, and commitment to the art of writing. To our students he is more than an educator—he is a mentor and inspiration."  
Lehrman, who speaks and writes often about speech, has taught at American University since 1998. In 2010 AU named him Adjunct of the Year. He and Steinhorn codirect the AU-sponsored commentary site, PunditWire.  
Lehrman's recent cover story "Gamer Nation" about the world of video games for the Christian Science Monitor Sunday Magazine, featuring interviews with one American University gamer attracted upwards of 200,000 readers and was picked up by Yahoo, and dozens of blogs.  
Lehrman's earlier books include the young adult novels, Juggling,(Harper&Row), an American Library Association Best Book for 1982, The Store That Mama Built, (MacMillan, 1992) one of three finalists for the National Jewish Book Award for Juvenile Fiction, and Defectors (Morrow, 1987), his well-reviewed novel for grownups. 
"Those were a long time ago," Lehrman says, about his twenty-year hiatus.  
And what might be in the works, after the Narrative prize?  
"Well, I guess finding a new agent," Lehrman says.