Journalism
Sold Out ONA Conference Hosts
Wide Range of Talent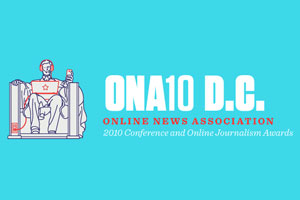 American University's School of Communication faculty, students and alumni will help welcome the nation's digital journalists when they converge on Washington for the Online News Association's annual conference Oct. 28-30. SOC will be represented at all levels, from conference co-chairs, presenters and board members to volunteers and student journalists covering the event.
The sold-out conference will bring more than 900 digital journalists together for an exciting program that includes keynote speakers from NPR and AOL and hands-on training in multimedia tools and apps. It will kick off with an opening night reception at the Portrait Gallery and a Career Summit and Job Fair. Representatives from media companies including AOL, AP, Demand, Frontline, Mashable, NPR, Patch, PBS, USA Today will be on hand to speak with students and job seekers. As a sponsor at the conference, SOC will have both a recruiting and exhibit table.  
Dean Larry Kirkman praised the school's leadership role in the annual meeting, "The Online News Association has become a major force shaping the future of journalism and SOC's deep involvement in ONA reflects the cutting-edge research, teaching and professional innovation of our faculty, alumni and students."  
Conference co-chair and director of the Weekend MA in Interactive Journalism, Amy Eisman says the support from Kirkman and the school has been awesome. "ONA10 is the place to be," she adds. "Sponsorships are up. Registration is up and the combination of hands-on training with head-turning panels will make this a memorable conference for sure."  
Many SOC faculty and staff are going to be involved in the conference, including:  
- USA TODAY interactive guru, AU alum and SOC Adjunct Professor Josh Hatch is also co-chair.  
- SOC's J-Lab: Institute for Interactive Journalism is hosting two pre-conference workshops. The first is the popular "Fund My Media" session where 10 speakers will offer practical advice on topics including how to launch with little money, a legal heads up, breaking into the world of foundation grants and building your site through alternative revenue. The luncheon keynote speaker is Evan Smith, CEO and Editor-in-Chief of the Texas Tribune. The other workshop focuses on J-Lab's innovative Networked Journalism project, which funds legacy newsrooms to help partner with hyper local news publishers. That session includes a dozen speakers involved in the project who will talk about building networked journalism collaborations in newsrooms across the country.  
- Professor Lynne Perri is co-chairing the ONA student newsroom. She is bringing students from across the country (including two from SOC) to AU's campus for an exciting day of training before two days of intensive reporting from the conference newsroom.  
- Chuck Lewis, executive editor of the Investigative Reporting Workshop, is hosting a panel on the new investigative journalism eco-system and professor David Johnson is hosting a panel, "Rewiring the Ivory Tower." 
- Several SOC faculty and staff are volunteering as are a number of SOC students. Finally, alums Jim Brady and Jody Brannon are on the ONA board of Directors – both have also taught for SOC. Alum Dave Wright is designing the look of the conference.