Communications
Personal Attention and a Mix of 'Big Picture and Hands-on'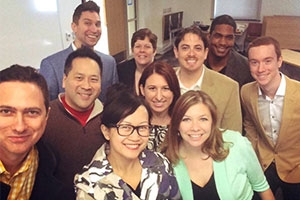 Seven students graduated from our new master's in Media Entrepreneurship (MAME) at American University in 2014. I could tell you about the program, but it's better to hear from them. 
- Amy Eisman, Director, MA in Media Entrepreneurship & MA in Interactive Journalism programs


The startup

In fall of 2012, we gathered the first, brave students of the new master's in Media Entrepreneurship program, gifted them with copies of entrepreneurship texts, book bags and breakfast, and started an adventure together. It was as entrepreneurial an effort for faculty as it was for the students.
About 20 months later, after all-day, rotating Saturday classes in the School of Communication and business courses one night a week in the Kogod School of Business, the students pitched their business ideas to an expert panel in our newly renovated McKinley Building. Judges included a digital veteran and entrepreneur; a startup founder who had worked at Google and Living Social; and a business co-founder who received $250,000 on TV's entrepreneurship venture, Shark Tank, one week later.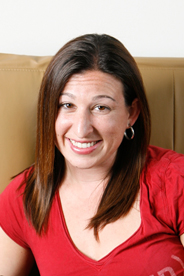 Dena Levitz
The students presented projects and business plans on a cooking site designed specifically for an Indonesian audience; an online venture called DeafTV; a portal for the growing class of freelancers; a GasBuddy-like app for grocery shopping; and other social media, news and information and entertainment businesses.
It was a good ending for this first cohort.
The journey there included targeted DC Startup Forums, a speaker series that drew speakers from Jim Bankoff, chairman and CEO of Vox Media to former Etsy CEO Maria Thomas; sessions and receptions at 1776, the celebrated downtown D.C. accelerator, incubator and shared workspace; and dozens of classroom speakers, from conference call disruptor Speek to media startups.
But what did the students think?


Want to be part of media's future
Dena Levitz, a freelancer who was digital strategies manager for a news association when she joined the program, was drawn to the adventure, among other things.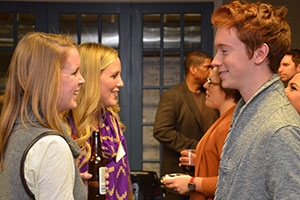 Jesse Bickford, right, talks with fellow MAME students at a networking reception held for students at 1776.
"The fact that MAME was new actually excited me," she says. "I like that fact that we could help craft the program and, in a sense, be entrepreneurs as we studied how true entrepreneurship and innovation works."
As several students echoed, Levitz wanted the business/media combo. She didn't know if eventually she wanted to launch a startup or become a publisher in an existing media company.
"All I knew was that it didn't feel sufficient to just write and edit stories. I wanted to be part of a changing future for media," she says.
That motivation was not unique. Shannan Bowen, who entered the program while working for Atlantic Media Strategies – the company's in-house consultancy in Washington, D.C. -- had earlier been a North Carolina newspaper reporter, working toward a career in investigative and data journalism.
"But I also saw something wrong at the business level of news organizations: funding." She searched a year for a degree, and was about to turn to an MBA, when she saw MAME. "The program combined my two goals of learning more about business while broadening my perspective of digital media," Bowen says.


Serving audience needs
It is no surprise Bowen focused her capstone project on a women's news site that focused on reinventing how to encourage civil conversation in comments. This fit with what she calls the "most valuable" lesson from all her classes: "The importance of knowing and listening to your audience."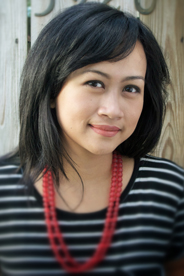 Vena Dilianasari
Vena Dilianasari, a senior broadcaster and producer at Voice of America who is developing the cooking website, had similar goals in mind when she enrolled.
"I have been in the field of media for 20 years, and part of it as an entrepreneur in Indonesia," she says. "I plan to pursue my passion again in entrepreneurship. I realized that I need to equip myself better with the latest tools in the business."
Dilianasari says she learned about the state of the media business, the best tools and web applications, and best practices for startups. She called the program, in which she enrolled "in a heartbeat," a good fit for her needs.
For others, the program's attraction was a creative freedom "combined with a stellar course lineup," says Jesse Bickford, who has his own IT consulting business. He was particularly grateful for the financial and marketing courses that "have proven immediately useful in my business environment."
Chris Lewis, director of digital media for NPR affiliate, WAMU, calls "invaluable" the "exposure to professors who were also working professionals at the top of their industries."


Personal attention
"We learned media law from a lead counsel at one of the largest media companies in the country, " Lewis says. "You don't get that in your average MBA program or communications school. The professors were fantastic and the level of personal attention went way beyond what you would expect."
Chris Lewis
As director, I also learned a few things along the way. I had expected, for example, that students would stick to the same project throughout. Only two did. Others dropped ideas after each class, which is a sign of putting your education to use. I also tweaked some of the curriculum.
As Levitz sums up, the master's in media entrepreneurship was "a combination of big-picture and hands-on."
She says she appreciated sessions on management tactics, incorporation, presentation, design thinking, financial statements. She feels that by the end, she could prepare prototypes, create a business plan and carry through on projects.
Meanwhile Bowen says she put her new degree to work almost immediately.
By summer, Bowen started a new job as Director of Audience Engagement for The Hill on Capitol Hill in Washington. D.C., where she leads social media efforts across the newsroom and business departments.
Bowen says she knows "I will use the skills and ideas I've gained" from MAME, "because the program has already prepared me for this job."