Television & Film
Professor Explores Changing Face of Midwifery in New Film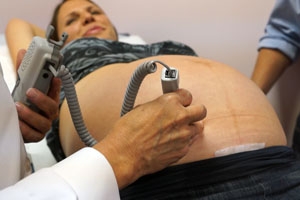 Brigid Maher is challenging her audience to see midwifery in a new way. While on sabbatical in fall of 2012, the Film and Media Arts Professor was immersed in the production of her upcoming feature length documentary, The Mama Sherpas. The film follows DC-based nurse midwives, their patients, and the doctors they work with over a two-year period, documenting their stories along the way.
In The Mama Sherpas, Maher explores an approach the medical community calls the "collaborative care model" of midwifery. Maher says her film "tells the story about how doctors and midwives can work together to create better outcomes for mother and baby." Additionally, the birthing process by nurse midwives in the hospital system, "is much more common than one may realize," Maher explains, and "of the 7.4% births caught by midwives nationally, 91.2% of them are caught in hospitals."
As a filmmaker, Maher is intrigued by a space she calls the "middle ground" in filmmaking. Maher recalls that, "filmmakers often have a pressure to look for controversy in a story. My last film, Veiled Voices, followed Muslim women religious leaders who were accepted within their communities. I found that audiences tended to assume the extreme- if women are going to be leaders in Islam, they will be conservative or liberal. My film documented women in the middle"
Maher hints that viewers of her new film should expect to meet some unexpected characters, one of which includes the male director of a midwifery services clinic. Maher was fascinated by these characters' perspectives, and chose to profile them because "they break stereotypes," she says.
Maher hopes the middle road portrayed in The Mama Sherpas will inform those who are seeking collaborative care, or who are just interested in seeing the topic in a new way. Maher notes, "there are already many documentaries focused on the home birth movement or how the medical system is broken. But, there isn't one that focuses on an 'in-between space.' It's not always seamless, but it's happening. I'm interested in exploring the tensions and the obstacles, but also how doctors and midwives make it work."
The film has already received a grant from the Humanities Council of DC and, as part of the film's outreach efforts, has partnered with the American College of Nurse Midwives. Maher recently presented at ACNM's "Moment of Truth" campaign launch, dedicated to educating women about maternal health care options. Recently, Maher launched an Indiegogo campaign to help fund the next stage of production.

The Mama Sherpas is currently in mid-production and plans a 2015 release date.