Journalism
Bridging Wikipedia's 'GLAM' Gap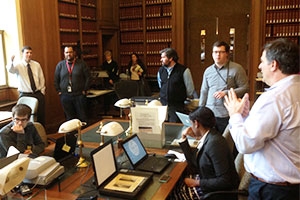 Professor Andrew Lih presented at SOC's Faculty Forum Wednesday, April 16, discussing the growing interaction between social media and traditional forms of knowledge sharing. View the full presentation: "Is K the New J? Wikipedia's Role in Knowledge for the Public Interest."

Wikipedia: It's the scourge of teachers in classrooms everywhere; professors prohibit so much as a passing mention in a footnote.

Wikipedia: It's the nightmare that haunts academics, professional researchers and other highly credentialed experts; they want absolutely nothing to do with it.

True? Or does somebody need to edit those sentences? Update them? Perhaps they'd be more accurate in the past tense.

And if that's the case, a large share of the credit goes to Andrew Lih.

Professor Lih, Associate Professor of Journalism now completing his first year at American University School of Communication, studies the intersection of new media, journalism and technology. He's one of a handful of the country's go-to experts on Wikipedia—the online encyclopedia entirely written by volunteers.

The focus of Lih's research: the impact of social media on the spread of "public knowledge." But he does more than just study the subject; with the help of several dozen AU students this semester and last, he's building some of the first bridges between two very different, and often highly contentious, knowledge communities.



On one side of the divide: the cogitate, curate, take-your-time, expertise-matters-above-all forces of traditional scholarship.

And on the other: the hurry-up, put-it-up, everyone-gets-a-shot, we're-all-equals-here forces of a more "democratic," more collaborative tomorrow.

Two groups, with two ways of looking at the world, and at the way information flows. But, it turns out, two groups with a growing number of interests in common. Which is how Lih's students regularly find themselves working with some of Washington's most important "GLAM" institutions ("Galleries, Libraries, Archives, and Museums"), helping them share their vast stores of knowledge with broader audiences than they'd ever thought possible. Audiences that these institutions have come to realize they want to—and need to—reach.

Among the notable participants in this cross-pollination of tradition and tech: the Smithsonian Institution's American Art Museum, Museum of the American Indian; the National Archives; and the Library of Congress.


Making a Change

The chance to make that cross-pollination happen was a large part of what lured Lih to the nation's capital, and to SOC.

"I don't think I could do this in any other city in the world," he explains. "Maybe London. Every other week you can visit a top-notch cultural institution."

In Washington, he says, visitors to the National Mall can ask themselves, "'What do I want to see today? Whales? Spaceships? Asian art? Matisse? Or I can do all four!'"


In previous postings, the one-time engineer at the famed Bell Labs (and founder of one of the country's first dot-coms, back in 1994) created the new-media program at Columbia University's Graduate School of Journalism, and then helped launch the University of Hong Kong's Journalism and Media Studies Centre—this, at a moment when Asia's Internet growth was just starting to take off.

He also spent time in Beijing (where his wife was working for The Wall Street Journal), getting a good look at what happens when a government tries to censor the Internet. It was in Beijing, too, that Lih started to write The Wikipedia Revolution: How a Bunch of Nobodies Created the World's Greatest Encyclopedia. That 2009 book recounted Wikipedia's modest origins and explosive growth, and speculated on what the expanding social-media landscape might mean for the future direction of public knowledge.

Then it was back to the States, to USC. And then, in the fall of 2013, the move to Washington.

But it was London, interestingly, that may have provided something of a role model for this current phase of his work; it was there in 2010 that the venerable British Museum first created the position of "Wikipedian in Residence", thus recognizing the growing influence of social media in general, and of the world's largest collaborative online encyclopedia in particular.


Warming up to Wikipedia

Attitudes toward Wikipedia among museum administrators "turned a corner" at that moment, Lih recalls. "'We shouldn't be fighting it,' they'd say. Furthering its mission furthers our mission.'"

Museum curators, he says, were "really fascinated. 'We know what should be in the articles, but we don't understand the norms of how to do it' on Wikipedia.'"

Enter the "edit-a-thon."

Museum folks knew their collections. Students—Lih's and others—had a better grasp on some of those Wikipedia norms. Their assignment, every Tuesday afternoon: to digest the facts about the various exhibits, the various holdings—whether those facts came to them in neatly organized folders, or by following their own sparks of personal interest right into the galleries—and then figure out the most effective ways to convey that information to the hundreds of millions of Wikipedia visitors.

In some cases, it might simply mean an expansion of an existing Wikipedia entry; in others, starting an entirely new entry from scratch. In some cases, the words are all that matters; in others, why not a photograph of that sculpture? Of that mask? Or instead of just describing it, why not a video clip showing people actually using sign language?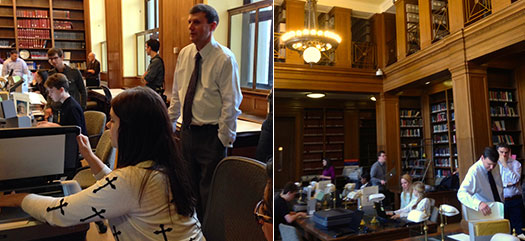 "I don't think I could do this in any other city in the world," Lih explains. "Every other week you can visit a top-notch cultural institution." 

Internet culture—and Wikipedia is hardly an exception—can often be quirky, fiercely independent, borderline crotchety. Newbies aren't always welcomed. Women aren't always welcomed. It's a place where one's identity is often created in opposition to traditional scholarship and its ivy-covered, peer-reviewed value system. A place, Lih concedes, where "the tenured professor has been treated much more shabbily than the 13-year-old."

So Lih also schools his students on how to navigate the sometimes- intimidating processes and personalities of Wiki culture. Occasionally it even takes a phone call from Lih to one of Wikipedia's editors, asking for a bit more patience as a student new to that culture fleshes out the bare outlines of an entry; after all, a quick slapdown is no way to encourage the next generation of contributors.

Filling the Gap

According to Lih, Wikipedia fills a critical need. Beyond the scholar/volunteer divide he's committed to bridging, there's a second divide that has long attracted Lih's attention, too: the one between the speed (but also the ephemeral, disposable nature) of daily journalism, and the depth (but also the sluggishness, the caution) of the academic and museum worlds.

For most of two decades, he explains, "My big question was: "How does the Internet change all that? How do we fill in the gap between the news that's happening now, and what gets saved and remembered about it later?

"We see news happening, and then there's the archives. There was no one place for-until Wikipedia."

Wikipedia, says Andrew Lih, provides something that's never been possible before: "A storehouse of knowledge that works at the speed of human achievement. A continuous working draft of history."