Research
Penn Presents Research on Hair Braiding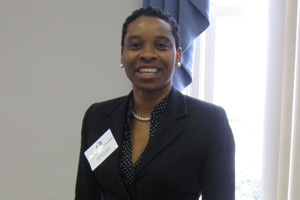 Arliene T. Penn, a recent graduate of AU's Public Communication master's program, presented her work on hair braiding at the 95th Annual Association for the Study of African American Life and History.
Penn examined how West African and African American women connect through hair braiding, interviewing women in Washington, D.C., and Harlem, N.Y.
The project began in a 2009 Race, Ethnic, and Community Reporting class, taught by Professor Angie Chuang.
"The goal of the class was to encourage students to find the untold stories of their own community … and Arliene did just that, pounding the pavement in the Columbia Heights neighborhood, observing the prevalence of West African-owned braiding salons," Chuang said.
Penn called the project a time to " reflect on our lineage and where we once were as a people…and embrace where we are today," adding that the conference broadened her perspective on how a deeply rooted tradition can be a catalyst for development, growth and change.
"West African hairbaiding is definitely a sign of female empowerment not just in the U.S. and West Africa, but in the Caribbean and I'm pretty sure in other countries where the art form is present. This is to say, women choose their styles and they feel good that their choices are not dictated or influenced by their male counterparts." 
The conference was Sept. 29- Oct. 3 in Raleigh, N.C. Penn described it as  "loaded with real-life experiences about, of and from African American historians, professors, book authors, activists, and persons that either played a significant role in the Civil Rights Movement or served as members of the NAACP."
"We need to find avenues to share our work with the rest of the world," she said. "My presence at this conference is evidence that when students write papers we must think beyond academics." She also presented at the Annual Virginia Social Science Association Conference in March 2010.
Currently, Penn is completing post graduate training with Ricochet Public Relations, New York. Thereafter, she expects to return home to the British Virgin Islands and continue working with the Government of the Virgin Islands in the field of communication.