Achievements
Aufderheide Named University Professor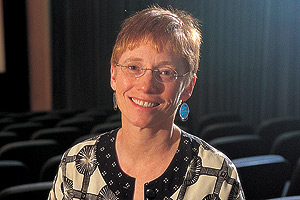 The School of Communication's Pat Aufderheide has been appointed University Professor; one of the highest recognitions American University awards its faculty. Aufderheide, professor of Film and Media Arts, has received numerous journalism and scholarly awards, including career achievement awards, in 2008 from the International Digital Media and Arts Association and in 2006 from the International Documentary Association. The unifying theme of her research and work is the question of media's roles in democratic public life.
Aufderheide exemplifies AU's commitment to interdepartmental programs, having initiated and worked closely with the School of International Service's International Communication program to build a joint MA with SOC in International Media. It is the first of its kind to enable people who want to make media for global development and social change and who want to produce that media in accordance with social scientific knowledge and high standards for craftsmanship.
And her course in History of Documentary is recognized both in the School of International Service and in the College of Arts & Sciences History Department for credit in their programs.
Aufderheide is also the director of SOC's Center for Social Media, which has funded and worked with faculty in SIS, CAS, and the Washington College of Law as well as SOC, developing industry-shaping guidelines and recommendations for fair use, ethical documentary practices, and sustainable filmmaking. MediaShift's Mark Glaser cites CSM as one of the factors that has made SOC a "hotbed for new forms of journalism".

Aufderheide's own research is conducted at the intersection of policy and practice across the globe. Her work on communication policy spans analysis of Brazilian cable policy, U.S. media ownership policy, U.S. Internet and broadband policies, and national and international copyright exemptions policies. Her book Documentary Film draws from a worldwide practice to chart the development of genres and trends in this burgeoning art form.
And her collection of essays, The Daily Planet, features work on Brazilian indigenous video, cultural analysis of Hollywood themes and genres, communications policy, dissident journalistic practices, and cross-cultural media.
For the last six years, Aufderheide has collaborated with the Washington College of Law Program on Information Justice and Intellectual Property on a research project on creativity and fair use, which has resulted in fundamental change in creative practice in documentary film, media literacy education and in online video.
Aufderheide is currently on sabbatical, continuing this work, writing a book on copyright and creativity with Prof. Peter Jaszi of the Washington College of Law.
Later this month, she will lead a workshop at EDUCAUSE's Learning Initiative 2010 Annual Meeting, "Learning Environments for a Web 2.0 World," January 19, in Austin, Texas.
February 11-12, she will be back in D.C., hosting CSM's Making Your Media Matter 2010, a conference for established and aspiring filmmakers, non-profit communications leaders, funders and students looking to learn and share cutting-edge practices for making their media matter.
In March, Aufderheide will be back in Austin for SXSW, moderating a panel on savvy use of archival and other copyrighted material: "Remix goes mainstream: Making mashups pay." Fellow SOC professor Larry Engel, who co-created the Center's Code of Best Practices in Sustainable Filmmaking is also hosting a panel, "The Mean Green Sustainability Machine."