Communications
Comedy Creates Change at Social Good Summit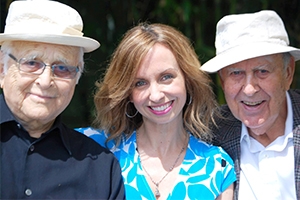 "You can tell a lot about people from the jokes they tell," is a key premise of "Stand Up Planet," a unique documentary attempting to change the global conversation about poverty—through comedy.

It's the latest project of Caty Borum Chattoo, Executive in Residence at American University's School of Communication and Creative Director at the university's Center for Media & Social Impact (re-launch of the Center for Social Media). Chattoo has been collaborating for more than a year on the project with a production and digital team spread across Los Angeles, San Francisco and New York.

The project and its host, TV personality and stand-up comic, Hasan Minhaj, were featured at last week's Social Good Summit, a prestigious gathering of world leaders and influencers in the intersection of media, technology and social change. The Summit is hosted in parallel with the annual gathering of world leaders at United Nations week and organized by the Bill & Melinda Gates Foundation, the United Nations Foundation, and Mashable, the powerhouse tech blog. Speakers this year included former Vice President Al Gore, Sir Richard Branson, the executive director of UNICEF, and other industry notables.

A Comic Uprising

"Stand Up Planet," for which Chattoo serves as Executive Producer, harnesses the universal power of comedy to tackle global poverty. From the groundbreaking 1970s TV sitcom "All in the Family" to "Comic Relief" in later decades, comedy has long channeled the power of laughter to both entertain and serve as a platform for some of the most pressing social issues of our time. "Stand Up Planet" hopes to follow in that tradition.

Through Minhaj, the show embarks on a journey to discover some of the best stand-up comics in parts of the developing world. From rural villages and urban communities in India to the streets of South Africa, "Stand Up Planet" follows several up-and-coming comedians to learn about the issues that lie behind their satire.

Viewers will also meet those working on the frontlines of social issues—including HIV prevention, the reduction of maternal and child mortality, and the strengthening of primary health care services. Change is happening in both places, as the countries work to create a healthier outlook for current and future generations.

And in both places, comics are finding new ways to tell these stories.

Social Impact Storytelling

"To me, this really is the dream project. My professional passion is working at the intersection of translating complex social issues into entertaining narratives, connecting with untold stories through documentary production. The world of 'social impact media storytelling' is evolving in such exciting ways," said Chattoo. "This project is a huge team effort, of course, and the hope is to build upon this foundation for future work.

The team, including Chattoo, filmed the project earlier this year in India, South Africa and Los Angeles, culminating in an international comedy show at Hollywood's famed Laugh Factory in May. The project includes cameos from several Hollywood comedy legends, including Norman Lear and Carl Reiner, along with other surprise special guests. For Chattoo, who worked for many years in Los Angeles as a producer, strategist and project director with Lear, it's "the perfect intersection of entertainment and social good." As former program officer at the Kaiser Family Foundation's Entertainment Media & Public Health project, producer of two feature documentary films and multiple documentary TV specials, and work in social-action strategic communication, "Stand Up Planet" works within her lens, combining documentary production, social issue engagement, strategic communication, and research evaluation.

"Stand Up Planet," is still in a post-production and digital development phase, although the adventures of the production are chronicled on its website, www.standupplanet.org. Information about distribution and ways to watch "Stand Up Planet" will be available in late 2013 or early 2014.

To learn more about the project and see full team production credits, visit www.StandUpPlanet.org. Follow the journey on Twitter @StandUpPlanetTV and on Instagram.

"Stand Up Planet" was directed by David Munro and the concept was created by Munro and Xandra Castleton; produced in association with Kontent Films.