Journalism
Choma '09 Blown Away by Own Success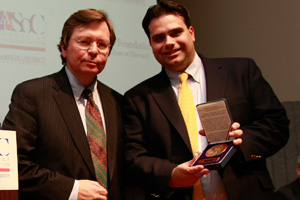 Russ Choma's hard work has really paid off. Choma, SOC/MA '09, is a full-time contributor at the American University School of Communication's Investigative Reporting Workshop, which recently released two reports that have garnered rave reviews from the New York Times and Washington Post. 
Other mainstream media and blogs have also taken note of  the reports, "Flying Cheap" and "Blown Away: America's billions for clean-energy jobs are flying overseas." Choma, who worked heavily on the "Blown Away" report, has been featured as a guest on CNN and CNBC.  
His first "Blown Away" article was written up in the New York Times, USA Today, Salon.com and the Financial Times, not to mention a variety of radio mentions. "On the second updated story we coordinated with ABC's World News With Diane Sawyer, which was very exciting," he said.  "Our story rolled out alongside a several-minute piece broadcast on one of the most watched news programs in the country."  
The "Blown Away" report was cited by name in letters by Senators Charles Schumer (D-NY) and Kit Bond (R-MO) to the Obama administration and has been mentioned during Congressional testimony. 
The level of attention surprised Choma. "We knew we had a good story, but it really touched a nerve," he said. "I think that during these difficult economic times and partisan bickering people really have a lot of hope for green energy and they worry a lot about whether the stimulus money is being used effectively. Our stories hit both of those issues." 
Workshop senior editor and SOC professor Wendell Cochran says Choma is a hard-working, smart reporter who knows how to use technology and old-fashioned shoe-leather reporting to dig deeply. "He also has the ability to explain a very complex subject in a way that makes it accessible to his audience," he said.  "It's great to see his work and accomplishments getting a lot of attention in the media." 
Choma used his experience at his fellowship with the Bureau of National Affairs, working as a reporter for the Daily Report for Executives, to do his investigative work at the Workshop. He says being a BNA employee gave him the opportunity to try out a bunch of different beats. "I wrote about cases in federal court (including the Ted Stevens trial and the opening salvos of the now-landmark Citizens United v. FEC U.S. Supreme Court case) and spent quite a bit of time on Capitol Hill and three weeks filling in for BNA's White House reporter." 
In autumn 2009, SOC hosted the prestigious Nieman Awards on campus where Choma was awarded the I.F. Stone Medal for Journalistic Independence essay award for his essay on journalistic independence.  He was both thrilled and humbled to receive the award. "To be on the same stage as Jon Alpert, winner of the 2009 I.F. Stone Medal for his stunning career, was amazing," he said. "Before my award was announced, Jon shared a reel of snippets from just some of his films and they were unbelievably powerful. It was a great event to have at AU." 
Workshop executive editor and SOC professor Chuck Lewis said he had the greatest pleasure presenting Choma's award at the ceremony. "He is a no nonsense, hard-working reporter who leaves no stone un-turned," said Lewis. In addition to working with Choma at IRW, Lewis had taught Choma in his International Investigative Reporting class. 
Moving to the workshop after grad school had not been Choma's original plan, but it was the opportunity that seemed most fulfilling in terms of his journalistic interests, says Choma. "I wanted to be involved with people who are at the next level," he said.  "And many on AU's faculty aren't just formerly accomplished journalists, they're still practicing the craft, so working at the Workshop is an opportunity to continue my education with these people even though I'm no longer a student. "