Television & Film
Workshop Certifies Students to Work on Movie Crews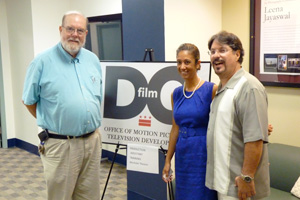 Junior Zach Drescher says he knew American University would prepare him for a job in the film industry. What he didn't expect is that AU would provide him a chance to work on the D.C.-based production of Transformers 3 while still in school. 
"This is a great way to work a couple days a month and gain insight into the industry," Drescher said during a break in a free, day-long workshop sponsored by the D.C. Office of Motion Pictures and Television Development and held at AU. The production assistant (PA) training qualified more than 50 students, alumni and D.C. residents to work on the set of television and film projects including the upcoming filming of Dreamworks Transformers 3. It was led by PATS, (Production Assistant Training Seminar, LLC) a California-based company owned by Gary Fiorelli, an assistant director on the television series Saving Grace and the Pirates of the Caribbean films who got his start in the industry as a production assistant in D.C.  
The workshop is the result of a partnership between AU's School of Communication and the D.C. film office.  The training helps make D.C. an even more attractive shooting location by expanding its pool of qualified workers. 
"After L.A. and N.Y., D.C. is the largest center of film and television production in the country," said Prof. John Douglass, director of SOC's Film and Media Arts Division. "Having the training here is very exciting and very useful." 
In addition to Fiorelli, the students had the chance to network with three local producers who scout locations and hire workers for shooting done in Washington, D.C. The group included Chan Claggett, who served as location manager on Body of Lies shot in D.C. in 2007; Jonathan Zurer, who worked on the series West Wing for seven seasons, and produced the Obama inaugural celebration at the Lincoln Memorial ;  and Patrick Burn who was location manager for Salt, which opens this summer and assistant location manager for 20 episodes of The Wire. In addition to explaining how to be a good PA, the group gave them tips on how to build a positive reputation. 
"You got to come to work big or you go home," said Fiorelli. "You do everything and anything and every meeting is an opportunity to network." Another PATS trainer, Lisa Mantoux, urged the students to be persistent. She told the story of having to hire workers on a project and getting a call every day from a young man who desperately wanted to be a PA. Finally, worn down by his repeated calls, she hired him and that was how Michael Sucsy, who won an Emmy as executive producer of the television special Grey Gardens, got his first job in the film industry. 
"We hear a lot of theory and technical information from our professors who have all done a lot in the business," said Cherisse Datu, a senior. "But hearing how these people broke in and who they've worked with is great." 
Graduate student Peter Kimball liked the training because he heard both the positive and negative sides of being a PA. "I thought before today that being a PA was part of paying your dues, but here I have learned that it is really good training that will be of great value in the future."