On Campus
Human Rights: On Film and In the Classroom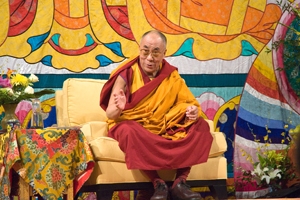 This month, American University's Center for Media & Social Impact and the Center for Human Rights & Humanitarian Law have been co-presenting the Annual Human Rights Film Series on campus, an event that this year, marked its 14th anniversary.
"Documentary film plays a really important role in storytelling on human rights issues," said Angelica Das, associate director at the Center for Media & Social Impact. "This is a campus-wide effort—the series is supported by all of the schools across campus—and I think that it's an important indicator of the depth of human rights activity that takes place at American University, across disciplines and across schools."
Courses, Events, and Access
Indeed, AU's focus on human rights is robust and wide-ranging. The university offers 130 courses focused on human rights and there are more than 20 human rights-related student groups.
Jeffrey Bachman, a School of International Service professorial lecturer, feels that students are quite engaged in human rights issues. A recent human rights event he worked on with the student group Creative Peace Initiatives had a strong turnout. During the recent debate over humanitarian intervention in Syria, he quickly arranged a Skype discussion with several professors and it attracted about 140 participants.
Washington, D.C., also offers opportunities for students to learn about human rights issues first-hand. Bachman teaches an undergraduate course on counterterrorism and human rights. When he recently discovered that a federal appeals court in the area would hear a case about members of the U.S. military force-feeding hunger striking Guantanamo Bay detainees while he was teaching the seminar, he took his students on a field trip. "This is one of the benefits students get—to actually go and see the things that we talk about in class," he said.
Rule of Law
AU has a number of human rights experts among its faculty. One is Claudio Grossman, dean of the American University Washington College of Law (AUWCL). Grossman is chair of the United Nations Committee against Torture and the UN Human Rights Treaty Bodies.
Grossman traces his interest in human rights to his upbringing in Chile, where he faced discrimination as a Jewish minority and witnessed serious human rights atrocities. Grossman saw law as a solution. "When you have human rights violations, it's already too late," he says. "I thought by developing democracy, rule of law, and human rights, you create the possibility of prevention of violation of human rights."
Grossman stresses that AUWCL has many subjects of interest. But a combination of factors made human rights a vital component. "We were created by women in 1896, when women were not allowed to practice the profession and were not accepted in law schools," he said, which helped establish AUWCL's commitment to equal rights and the rule of law.
Teaching Human Rights
A recent School of Professional & Extended Studies (SPExS) forum dealt with incorporating human rights into a variety of disciplines.
Led by SPExS dean Carola Weil, the discussion featured panelists Joseph Eldridge, University Chaplain; SPExS assistant professor Iwetta Pyc; and Hadar Harris, executive director of the Center for Human Rights & Humanitarian Law at AUWCL.
Weil opened up with a question: "If you were teaching a physics class, how could you integrate human rights into that?"
Later, Pyc offered an answer to Weil's opening question. "Nuclear nonproliferation is one of the issues," she said. "But also we forget that those who created nuclear weapons, afterwards, said the weapons were the worst thing they ever created."
"If it gets too abstract, I like to connect it to human beings. And when I think about human rights, I think about Aung San Suu Kyi, Nelson Mandela, Archbishop Desmond Tutu," Eldridge said. Aung San Suu Kyi and Archbishop Desmond Tutu, as well as the Dalai Lama, are among the human rights figures to have spoken at American University during the past decade.
Eldridge opined that negative emotions stemming from injustice can help mobilize students to action. But he stressed that positive emotions are needed to sustain social activism over time. "Anger without love isn't activism. It's someone who needs therapy."
Our Own Backyard
The term "human rights" often conjures up images of refugees fleeing violence in Sub-Saharan Africa, or the unknown Chinese protestor standing in front of a tank in Tiananmen Square. But some human rights advocates argue that plenty of violations take place right here in the United States.
"We don't like to look for problems in our own backyard. In some ways, it's easier to put a little distance between a human rights violation and ourselves," says Richard Stack, a professor in AU's School of Communication.
Stack is a critic of capital punishment in the United States and he's examined cases of people on death row who were later exonerated. His newest book Grave Injustice: Unearthing Wrongful Executions examines the cases of 18 executed death-row inmates who Stack believes were likely innocent. He's now collaborating on a documentary film with his colleague film professor Maggie Burnette Stogner.
And while arguing for the rights of convicted criminals on death row may seem like a tall order for any human rights activist, Stack says it is no different from human rights cases overseas.
"It's the same problem that every underdog faces," he says. "What they all need is someone to give them voice."