Achievements
Government Matters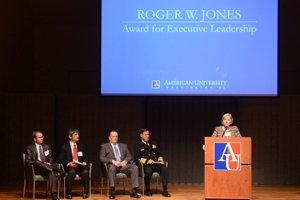 With tight budgets, furloughs, and a government shutdown, these are trying times for government workers. But there are exemplary people in government, and American University's School of Public Affairs has highlighted two noteworthy individuals as part of the 36th Annual Roger W. Jones Award for Executive Leadership Ceremony on October 29th.
This year's awardees are Brian Persons, assistant deputy chief of Naval Operations for Warfare Systems in the Department of the Navy, and David A. Bray, chief information officer at the Federal Communications Commission. The event's guest speaker was Daniel Werfel, acting commissioner of the Internal Revenue Service.
Public Service
Barbara Romzek, dean of the School of Public Affairs, kicked off the evening with a speech praising both winners and exalting government service. "The notion that public service is irrelevant is clearly, patently false—from the safe food we eat, to the clean air we breathe, the green spaces we take for granted, the safe highways that we use, and the army of civil servants who work around the clock," she said.
Romzek subsequently called for a moment of silence for the 12 civilian employees and contractors killed in the Washington Navy Yard shooting in September.
SPA's Robert Tobias later hit the same notes on the importance of public service in the aftermath of the government shutdown. "Through their hard work and devoted service, they will get government up and running again," he said, "because federal employees are dedicated to something larger than themselves."
The Honorees
Before joining the FCC, Bray served as executive director of the National Commission for Review of Research and Development Programs of the United States Intelligence Community. He's also served in key positions at the Centers for Disease Control and Prevention, overseeing technological responses to national emergencies such as the 2001 anthrax attacks and the 2003 SARS epidemic.
Bray's career in public life started much earlier, and he devised several innovative government solutions before he even reached college. In introducing Bray, Gilman Louie chronicled his colleague's precocious ways: "While many of us were playing on our video game machines at the age of 15, David started his federal career at that young age as an intern working at the Department of Education."
In a humble speech accepting his award, Bray thanked his family and credited his parents for his career choices. "My father being a Methodist minister, my mom being a school teacher—I think that's why I chose public service. They were role models and continue to be my role models," he said. In addressing his wife, Bray described her as someone who is "extremely patient, kind, and understanding, particularly when I call and say 'I'm trying to get home as soon as I can, but I have to get this done.'"
Persons grew up in Montrose, Mich. and earned his bachelor's degree in engineering from Michigan State University. "I would have probably stayed in the state, but the automobile industry in the late '70s, early '80s went belly up for a while," he said in an interview. Instead, he took a job in the federal government at the Long Beach Naval Shipyard. He gained extensive government experience, which included working in the Navy's program office that bought, refueled, and overhauled nuclear-powered aircraft carriers.
In his recent job as executive director of the Naval Sea Systems Command, he supervised more than 58,000 employees and helped hire wounded warriors who fought in Iraq and Afghanistan. Persons is currently ensuring that the Navy has the needed manpower, weapons systems, ships and submarines for the next five years.
In his acceptance speech, Persons also referenced the recent shooting at the Navy Yard. He was formerly a senior civilian there, and he knew 10 of the 12 victims quite well. "I watched my former command rise from the ashes, and do their job, literally hours after it happened," he recalled.
A Proud Tradition
The late Roger W. Jones spent more than four decades in government leadership positions, including chairman of the Civil Service Commission from 1959-1961 and senior consultant and special assistant to the Bureau of the Budget director from 1962-1975.
Last year's Roger Jones Award winners were Thomas Mesenbourg, acting director of the U.S. Census Bureau, and David Wennergren, assistant deputy chief management officer at the Defense Department. The chair of the award selection committee is David M. Walker, former comptroller of the United States.
The AU School of Public Affairs was founded in 1934 and is home to research centers and institutes in justice, organization development, political science, public administration, and public policy.
Even amidst the aforementioned political turmoil, plenty of AU students still want to work in government. Nicholas Hunt, a freshman in the SPA Leadership Program, said the event reaffirmed his belief in public service. "These are good-spirited, good-natured individuals, who are truly trying to enact positive change within the government," he said.