Achievements
SOC Staff Win AU Diversity Award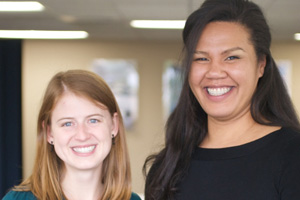 The School of Communication's Senior Advisor for Recruitment and Retention, Jill Swiatowy, and Veronica Cummings, the Academic Division Coordinator, have won American University's 2010 Staff Diversity Award. The award is given to a staff member or group who demonstrate respect for all differences (e.g., race, gender, ethnic background, disability, sexual orientation, age, career level, style, and opinion).
Swiatowy and Cummings were cited for their collaborative efforts in a comprehensive survey that measured, among other things, undergraduate perceptions on SOC diversity. Both Cummings and Swiatowy said they were focused on the students for this project, and never expected an award.
"It's great that we can show the University that it's a topic the School of Communication thinks is very important," said Swiatowy.
Cummings said receiving the award was a humbling experience for her. "To receive this award is an incredible honor because it is coming from the University level. But more so, for me this project was really important because it stems from a personal interest and from personal experiences when I was an undergrad," she said. "So to receive an award for doing what I found to be very interesting was just icing on the cake."
The survey went out to all the undergrads in SOC, and had a 31 percent response rate, which is considered quite high. It measured students' level of agreement with SOC student and faculty diversity, the importance of diversity to SOC students and SOC efforts to recruit ethnically diverse students.
Swiatowy said they wanted to determine whether there were particular groups of students in SOC who felt varying levels of connectedness to the school based on different backgrounds, including ethnicity and first-generation status. "We wanted to gather information to help us determine how we can improve and to help drive future programming. It was important that this information came directly from the students, so we could be certain we were meeting their needs."
The survey came about after Swiatowy and Cummings were asked to identify ways to bring together SOC students from traditionally underrepresented groups. As a result of the survey, they are forming focus groups to create programs that will allow for better connections to advisors, faculty, and peers in SOC -- and, ultimately, a better undergraduate experience.  
Both Swiatowy and Cummings think the first step is to identify what diversity means. "It means many different things including but not limited to ethnicity, first-generation status, socio-economic status, domestic/international, sexual orientation, democrat/republican, freshman/transfer. There are also different levels to consider such as diversity of the faculty, of the student body, what's being taught in the classroom. As a School that educates future media makers, the importance of diverse perspectives is especially important. Integrating the topic of diversity in all classes -- at all levels -- is a large part of what we're working toward in SOC," said Swiatowy.  
They are still analyzing the results of the survey, and are working closely with SOC's faculty Diversity Committee as well as professors Dotty Lynch and Maria Ivancin to create and implement the focus groups. The outcome could lead to future programming such as a mentorship program, speaker series, or visits to area high schools to recruit the talented students in our own back yard.