Television & Film
Edward Norton Visits AU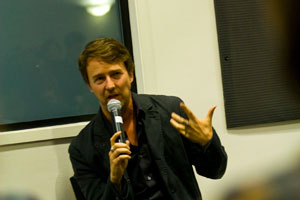 Edward Norton visited a packed house at American University to discuss his new film, "Stone," and answer questions about his acting career.   
During the question and answer session, Norton talked about what he looks for when choosing a role, and what attracts him to particular projects.  Norton told students that he looks for roles that are both original and meaningful, and is especially drawn to films when the director has a deep personal connection to their subject matter.   
He revealed that he admires actors who choose to portray characters that struggle with issues that the actor might be dealing with in real life, and admitted he would like to move in this direction with his own career.  Norton also talked about films he found to be personally inspiring, specifically citing the works of Spike Lee, Milos Forman, and Terrence Malick.   
American University Film Society co-presidents Matthew Gohn and Ryan Williams were able to speak with Norton when he arrived.  "I was really flattered when talking to Mr. Norton before he went on, and he was asking Ryan and I about the film society," says Gohn. "He was asking us questions and showing genuine interest, and it was terrific getting to tell this A-list Hollywood actor about our two-month old club." 
Likewise, student Rachel Slattery said Norton was quite charming and very knowledgeable. "He made famous literary allusions to Othello and Macbeth which showed he was well educated. He actually graduated from Yale," she said. "He seemed to be quite humble too, humorously telling the young gentleman who asked about his work in documentaries that no director wants to have to deal with trying to get a famous actor out of his or her trailer. I don't think there was one person in the room who didn't feel awe-inspired to have our school host such an incredible actor."  
Netting a speaker like Norton was a coup for the Film Society, which is new to campus this semester. Board members James Paul, Emmet McGregor, and Meghan Reynolds worked together with Gohn and Ryan to coordinate the successful event.  
The event with Edward Norton was sponsored by John Douglass and the American University School of Communication, by the AU Film Society, and by ThinkTalk which is Career TV for college students.