Achievements
Lopez-Davis Wins Young Artist Grant for Native American Photos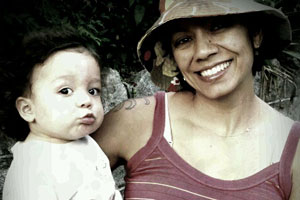 Guarina Lopez-Davis is using her camera to show how Native Americans have changed within their own societies and the modern world.
"Personal Regalia," funded by a Young Artist Grant from the D.C. Council on Arts and Humanities, is a series of 15 portraits taken in the Prayer Circle of the American Indian Museum. Each subject, most of whom work at the museum, also was interviewed. The series is now available exclusively through her website, personalregalia.com.
"A lot people don't actually understand or believe that [native people] exist, that we continue to live in modern day societies, that we don't look like those people did 150 years ago and that we've also assimilated into society,' Lopez-Davis said.
A major inspiration for the series is the turn-of-the-19th-century work of photographer Edward Curtis, who captured romanticized images of Native Americans.
"I had never seen images like them before, but I had also never seen Indians like the ones in the photographs," she said. "They were majestic and proud, and yet I sensed a kind of distance from their true reality. Even at 10 years old I knew there was falseness to those images."
Lopez-Davis, a Liberal Studies Major who wants to teach photography, applied for the grant a year ago, received the news she had won on Christmas Day and worked steadily through the spring and into the summer to bring it to fruition. The project blended both her love of photography and importance of her heritage as a member of the Pascua Yaqui tribe.
Though she was already an established photographer when she came to American University, Lopez-Davis says she has learned much in the classroom, especially from Professor Leena Jayaswal.
"American University in some ways has had an impact on my project just in terms of having a professor who is going to be that involved, but also in helping me think conceptually about my project," she said about Jayaswal.
Lopez-Davis hopes to continue the project through more grant funding, perhaps traveling to different reservations to capture images of native people to create an archive of their culture.
Her photos, developed from a project in SOC and UDC, will be on display on the 3rd floor of the Mary Graydon center from November to December.