Achievements
Hilton Reps Impressed by Student Proposals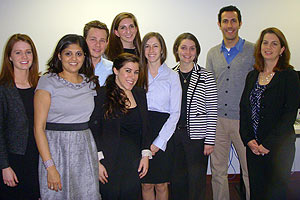 Professor Pallavi Kumar's Public Relations Portfolio class worked all semester on strategic communications plans for Hilton Hotels and Resorts, culminating in presentations to Hilton representatives in their final class.
The students were divided into four groups and each functioned as its own agency, developing comprehensive situation analyses for Hilton complete with a SWOT analysis, competitor overviews and a social media audit.
They traveled to Hilton headquarters in Tyson's Corner, where they received a briefing from John Forrest Ales, director of global brand public relations and Bonnie Campagnuolo, director of resort marketing. The work they were doing was so high-level, the class even had to sign confidentiality agreements.
Each group picked a different target audience and developed three distinct subcategories and personas within that audience, including families, business travelers, the travel industry and honeymooners.
The students developed strategies, tactics, calendar, budget, expected storylines and media targets, conducting original research through on-the-street interviews as well as collateral material to bring each tactic to life.
Each member of the winning team, "Inspire", won Hilton-branded prize packs and one free night at any Hilton Hotel in the world.
Kumar says she's proud of this class for taking the challenge so seriously, working so diligently throughout the semester on every aspect of the project and really putting forth strategic and creative ideas that were grounded in research and feasible to implement.
"The presentations themselves to the Hilton team were so professional and thoughtful, and the class handled the very tough Q&A portion with poise, knowledge and grace," she said. "This class was not only fantastic in their overall plans they produced but also in the teamwork and dedication they displayed throughout the semester."
"This group was really outstanding," said Campagnuolo. She added that all of the teams' analyses were strong and went above and beyond.
Forrest Ales said that all of the presentations included creative ideas and strategies to activate the consumer and the media, which was great. "These were all very engaging and very informative. Tremendous work, they should all be proud," he said.
The winning team "Inspire" included students Maiya Dacey, Jason Maymudes, Suzanne Henkels, Michele Pimpinella and Katy Underwood.