Communications
In Wake of Disasters, Japan Faces Crisis in Communication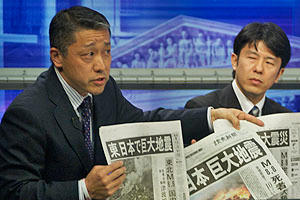 Aggressive Western journalists who have flocked to Japan demanding its government reveal the full extent of danger caused by its tsunami-damaged nuclear reactors may substantially change the complacency of the Japanese media, experts said during  a televised School of Communication panel discussion Thursday.
"In Japan no journalists ask questions," said Yoi Tateiwa, chief NHK correspondent and a visiting journalist in residence at American University's Investigative Reporting Workshop. "Officials make statements and reporters keep writing."
Yoi appeared with professors Kenki Adachi, a visiting SIS professor from Ritsumeikan University and Quansheng Zhao, director of the AU's Center for Asian Studies, on the SOC-produced program, "Japan: Crisis in Communication."  They were joined by editors of the new digital news service News for the People of Japan via Skype. The panel was moderated by Sharon Metcalf, senior director, Partnerships and Programs at SOC and was produced in SOC's media production center.
The influence of Western coverage as well as first-hand accounts shared on social media have shown that "We are being told nothing," Yoi said. "It shows you can't count on what is being reported. We must dig deeper and challenge the government."
But one questioner illustrated the deep trust the Japanese have in their media.
Chris Gehring, director of systems engineering at AU, said he was surprised by his Japanese-born wife's willingness to accept NHK's report that a video of a smoking reactor was described as an innocuous  "puff of smoke," even as the BBC labeled it evidence of disastrous damage.
Yoi explained that the Japanese government tightly controls its message. For example, he said, while the Tokyo Electric Power Company (TEPCO) provides continuous briefings on the damaged nuclear reactors, little information is conveyed. And to further control the message, they moved press briefings from a spacious conference room to a tiny office, limiting the number who could attend.
Kazuo Hizumi, the editor of NPJ, said via Skype from the TEPCO briefing room that the company is "hiding a lot of things." And while foreign journalists are asking questions, the Japanese media, "just are typing."
The production was put together quickly after Yoi learned from colleagues in Japan how many people were relying on foreign media for news about their own country while resentment of the national press was increasing. He talked with SOC Dean Larry Kirkman and within a week "Japan: Crisis in Communication" was developed by AU students and alumni and was broadcast over AU's television channel and by Link TV.  More than 50 students and faculty attended the event. 
Yoi showed a collection of three of the country's five national papers, all with the exact same headline.  In contrast to U.S. editors who strive for unique angles and headlines, Yoi said Japanese editors "like that they are the same because it reaffirms to them they have the story right."