Internships
Interns Gain Experience at Top D.C. Media Outlets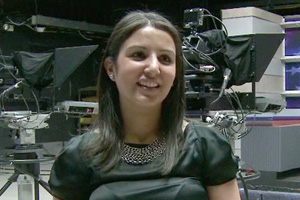 No one is sure what tomorrow's journalism industry will look like, but School of Communication students are given the skills they'll need to succeed no matter where they land. Many students start using what they learn in the classroom as interns at a range of top companies, giving them a head start on a solid career.
Graduate interns at SOC have gotten a taste of what Washington jobs have to offer. Their stories speak to multimedia, Washington's name brands, global perspective and SOC contacts. These interns have the opportunity to land jobs even before they graduate.
In doing so, these interns demonstrate that going to school doesn't mean putting off career goals or waiting to get professional experience right away.  
Amy Eisman, who supervised the Spring 2010 interns, says internships are critical to one's professional growth, and students are wise to select carefully. "This year's group of interns are a great example of matching interests and skills with employer needs," she said. "What they've done -- from producing news in Arabic to filling in for TV sports reporters -- will just blow you away." 
Some of those interns include Brianna Pellicane, who is interning, working in Arabic at BBC Arabic TV, and Philippa Levenberg who is at Voice of America working on the Afghanistan desk. Even though she doesn't speak the language, Levenberg is still doing interviews and is working on producing stories for a man who is the equivalent of Idol's Ryan Seacrest in Afghanistan. Journalism professor Lynne Perri linked Lauryn Smith to her position in the the Huffington Post Investigative Fund. Another is Lauren Orsini who's working at the Newseum, doing QA on kiosks and writing questions for a daily online quiz.  
Perri has helped four students get internships this year. She said it really helps that the students know that the SOC faculty is here to help them and network with them.  
"If you're a smart person and you're adept and adaptable, that's two notches up on whether you know a certain software program," she said. "The ability to grow, to have a chemistry with people, to be able to work with other people is a big plus."  
Perri said the relationships she develops with the students are fantastic. "It makes it fun," she said. "You get to see someone grow in their role at school as well as in their job potential."