Journalism
Professor's Passions Drive Her Writing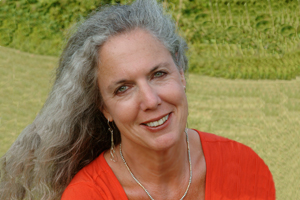 Professor Iris Krasnow has an impressive track record. She is the best-selling author of Surrendering to Motherhood, Surrendering to Marriage, Surrendering to Yourself, and I Am My Mother's Daughter, and just signed a contract for her fifth book release. Her writing has been featured in Parade magazine, The Wall Street Journal, SELF magazine and The Washington Post. She's been a guest on numerous national radio and television programs including Oprah, Good Morning America, The Today Show and several appearances on CNN.
She says that even with all this publicity, her four amazing children keep her grounded and rooted. "I'm the mother of four sons, 20, 18 and 16-year-old twins so that keeps me alive. I'm awake, let's put it that way." You can see this in her work, which often focuses on themes of family and love.
As the academic director of the Washington Journalism Semester, she's with the students from 15 to 30 hours a week and says they really bond like brothers and sisters. "It tends to be a very close-knit group," says Krasnow. "What they share is an unabashed enthusiasm of doing communications in D.C."
Now in her 16th year with Washington Journalism Semester, Krasnow has been teaching on and off at AU since 1987. Her students do profiles, news features and personal essays. Although the blogosphere is often seen as the future of journalism, Krasnow says that many journalism students like to see their bylines in ink and enjoy the tactile sensation of reading and touching a newspaper and magazine. "I love a good clip and I love to touch paper," she said. "There are a lot of people who still love to read long form journalism and love to write long form journalism. The truth takes time to unravel and you can't always do it in a three second phone call."
In an age where a long story is 500 words, a lot of Krasnow's students want to write books. "They want to learn how to write that Vanity Fair profile, they want to work for Washingtonian magazine, they read The New Yorker, they want to be writers," she said.
Krasnow comes from a long background in journalism. Starting as a fashion writer for the Dallas Times Herald then moved to United Press International in Washington, D.C. as a national feature writer. At UPI, Krasnow specialized in celebrity profiles, including Yoko Ono, Billy Graham, Ted Kennedy, Elie Wiesel and Queen Noor of Jordan.
Krasnow says even though print journalism has been in a decline, the core tenets of what it takes to be a journalist remain unchanged since the time of Edward Murrow. "It takes accuracy, responsibility and clear language," she said.
In fall 2009, American Stories, a student-produced magazine created by Krasnow's Feature Article Writing class, was launched. Story topics range from arranged marriages to living with learning disabilities. From classes like these, Krasnow says she may have developed a bit of reputation for making her students write long papers, but it's one she's proud of. She says if students take her class, they'll write a lot. "Let 'em sweat through six pages. That'll make them so much better when they're writing 1,500 word essays or 500 word essays."
Deep down, Krasnow says she's a storyteller. "I call myself a psycho-journalist because hundreds and hundreds of people have dumped their anxieties, loves, joys, heartbreaks and euphoria into my tape recorder," she said. "It's raw and real stories of raw and real people."  
What she enjoys most is writing about what people aren't talking about but thinking. "I enjoy writing about love," she said. "My greatest joy as a journalist is to get people of power to melt into mere humanity."