Achievements
LivingSocial Reps Impressed with Student Analysis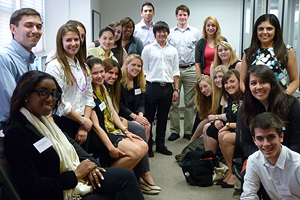 Professor Pallavi Kumar's PR Portfolio class pitched their stragetic communication plans to LivingSocial execs as part of their final in the class, with the winners receiving "Deal Bucks" from LivingSocial.
Students Erin Waters, Taiga Koda, Jen Rollin, Sarah Kreshtool and Lauren Reddington comprised the winning team Kaleidoscope.
Andrew Weinstein, Head of Communications at LivingSocial said their team was incredibly impressed by the quality of each team's analysis, the depth of research, the level of creativity and polish, and the understanding of their business shown by the students. "All of the teams deserved to be recognized for their work, and we were privileged to take part in the process."
Likewise, Elizabeth Summers, Senior Manager of Internal Communications at LivingSocial said they were delighted with the quality and professionalism of the work. "We're still talking about elements of each presentation in our team meetings this week," she said.
Since January when the class visited LivingSocial's headquarters and were briefed on the challenge, every team worked hard to understand the mindset of the client along with the challenges and opportunities with the specific platform they were helping to promote.
Kumar said that each year she teaches the course, the caliber of work exceeds her expectations. "What was really wonderful was how each team managed to deliver on different levels including research, messaging, target audiences and tactics," said Kumar. "Every student in this class should be proud of their incredible effort in this project and for producing high quality, real-world plans."