Achievements
Film Professor Myers Is on a Roll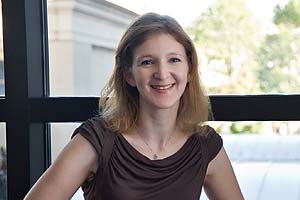 Claudia Myers, a successful film writer and director and SOC professor of Film and Media Arts, is racking up achievements in both fields. Variety featured stories about two of her latest projects within a week, and she has been developing a sequence of fiction writing courses that bolster the overall Film and Media Arts division. To top it off, a web series she produced through a course she developed with SOC colleague Kylos Brannon took home three awards at LA WebFest.
The film Wild Oats, which she co-wrote with Gary Kanew, was recently acquired by Dimension Films for U.S. distribution. The film stars an array of Hollywood talent including Academy Award winners Shirley MacLaine and Alan Arkin, Academy Award nominee Jacki Weaver, and will be directed by Howard Deutch. The comedy tells the story of a widow (MacLaine) and her best friend (Weaver) who take off on a cross-county road trip after receiving a Social Security check made out for $900,000. The script won 2nd Place at the 2004 Slamdance Screenplay Competition.
Another Myers project attracting attention is Fort Bliss, which she wrote and will direct. Fort Bliss will star Michelle Monaghan (Gone Baby Gone, Source Code, Machine Gun Preacher) and Ron Livingston (Office Space, Swingers, Band of Brothers) The film tells the original story of a female solider rebuilding her relationship with her son after a tour in Afghanistan.
"I'm very encouraged by the momentum we have now on Fort Bliss and Wild Oats. Both casts are tremendous and it's exciting to see the pieces fall into place," says Myers.
Myers also wrote and directed Kettle of Fish, which won a Nickelodeon Screenwriting Award and was cited as a standout romantic comedy in David Carr's The New York Times festival overview. Below the Beltway, a feature film she produced, won the audience award at the Newport Beach Film Festival.
At SOC, Myers is using both her writing and directing talents to grow the curriculum, particularly the fiction writing program.  She has helped expand a course progression that provides students a strong foundation in writing for short- and long-form media on a variety of platforms.
"I think it's important to have a clear course progression, especially when it comes to screenwriting," Myers explains. "Tackling a 120-page feature script can be overwhelming if you haven't mastered the fundamentals of dramatic writing and the special demands of telling stories in a visual medium. We try to address that in our curriculum."
The sequence includes:
Writing for Visual Media - provides an introduction to the basic principles of both fiction and non-fiction script writing.
Writing the Short Film - focuses on dramatic structure, character development, scene writing and dialogue in the short form.
Practicum: Pitching Your Screenplay - teaches advanced students to create and deliver a pitch using all the key elements, from pacing and duration, to attention-grabbing set pieces and defining character moments.
Advanced Writing for Film - focuses on the craft of feature writing. Students will be guided from idea to outline to completed screenplay in a single semester.
Advanced Writing for TV  - Students learn to pitch and develop scripts for prime-time shows while polishing skills in story development and characterization.
Advanced Topics in Film and Media Arts – a graduate-only course designed for students to analyze, deconstruct and rewrite an already completed feature screenplay.
Myers is also working with other faculty to create new courses that recognize the industry's changing platforms.  Along with Prof. Kyle Brannon, Claudia designed and taught "Creating Webisodes: from script to screen." During the course and in collaboration with their students, they produced "Stage Fright," a ten-part comedy series, which recently won three awards at the LA WebFest.  Myers herself received the award for Best Director, and the series also won for Outstanding Comedy Series and Best Theme song. Big or small screen, Myers is proving that her body of work is as diverse as her accomplishments.