Journalism
SOC Joins Nieman to Honor Journalistic Independence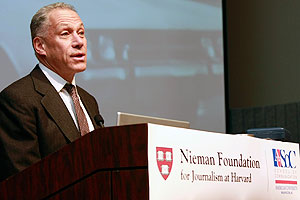 American University's School of Communication partnered with Harvard's prestigious Nieman Foundation to salute award-winning documentarian Jon Alpert and SOC graduate student Russ Choma at AU's Katzen Arts Center for a ceremony celebrating journalistic independence.
In accepting his award for an essay about journalism independence, Choma, a former AU Fellow at the Bureau of National Affairs, said the greatest challenge for journalists is not to be distracted by new tools or easily-obtained information, but to remain focused on the hard truths. Professor Charles Lewis, distinguished journalist in residence at SOC and executive editor of the Investigative Reporting Workshop, presented the student award noting that the essays by the four finalists were "notably original and very thoughtful."
SOC Dean Larry Kirkman said the school was honored to host the second annual I.F. Stone Medal ceremony because it represents the core values and goals of the school. "We are here to inspire and train the next generation of public affairs reporters, with the knowledge and know-how, ideals and determination to present the evidence and testimony that drive public debate," Kirkman said.
The foundation selected AU because "American is the growing center for new media," said Nieman Curator Bob Giles. "This is an appropriate partnership." And Alpert, Giles said, was the appropriate winner of an award that honors the strident independence of I.F. Stone, who published his revelatory journalism in I.F. Stone's Weekly from 1953-1971.
A journalist for 35 years, Alpert has lugged his camera across the globe to cover the Mariel boatlift in Cuba, the mujahedeen in Afghanistan, corruption in the Philippines, glasnost and perestroika in the Soviet Union and the Sandinistas in Nicaragua. But his career had humble beginnings.  
While working as a New York City cab driver, Alpert was outraged by an ineffective union that failed to protect drivers so he grabbed his wife's video camera and captured the anger of other drivers. The union was taken over and Alpert discovered a way to be an agent of social change. He films have been aired on public television, NBC, CBS and HBO. Albert founded and is co-director of the Downtown Community Television Center where more than 50,000 low-income students have learned to tell visual stories in more than 30 languages. Plans are underway to provide AU students the opportunity to internship at the center.
"I.F. Stone was my father's favorite reporter," Alpert said, accepting the medal. "He talked about Stone and how he was his own man. Stone was used as an example of the man my father hoped I would be."