Communications
Students Produce Web Series with NBC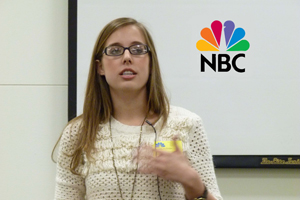 The second week of classes usually finds students settling into a new class routine.
Students in Sarah Menke-Fish's Television Studio Production course stood in front of three NBC executives and pitched their concepts for a new series of webisodes, to be aired on NBC4's nonstop digital channel and on nbc4.com.
Helping the students develop content for the station is just one facet of a wide-ranging partnership between AU's School of Communication and NBC. Training, internships, the use of school and student-generated content, and the invaluable feedback from NBC professionals are all part of students' experience in the Television Studio Production class.
On pitch day, 16 students anxiously entered an executive conference room at NBC Washington. One at a time, each pitched a concept. While a few slightly trembling voices betrayed anxieties, it was evident that their pitches were well prepared and that the executives took notice.
Jim Iovino, NBC's Platform Manager and Web Managing Editor praised the "great work from everyone. We know that this can be really nerve-wracking."
What gave them the confidence to present their original ideas to television executives? Students cited an initial rehearsal and critique with Menke-Fish. Student Anuj Gupta remarked, "she required us to pitch to her before we came here. It really helped."
Of the 16 pitches, which included DC Metro-based game show, a sports-based interview show, and a tongue-in-cheek satire on DC neighborhood trends, four were chosen to create pilot episodes. Of those, NBC executives chose one show that would run on their website and cable channel.
Hidden Gems, a blend of pitches by students Madhavi Reddi and Ellie Rutledge, was chosen as the semester's series. Gems showcased well-known monuments and destinations paired with nearby "gems" such as a restaurant or art gallery that are off the beaten track.
Menke-Fish works "to connect the other areas of the student's studies. If it's marketing, they help with promotion," she explained. "It's been a great success. They get the opportunity to work independently and as a team in the professional environment."
After completing the course, and receiving television production credit for her work on the series, sophomore Madhavi Reddi was thrilled with her NBC experience. "Now, when I go into NBC, people recognize me and say hi. It's a great feeling!"
The first episode of Hidden Gems ran April 12. All episodes are online.