First Person
PR Job at LivingSocial Develops New Skills for Dean's Intern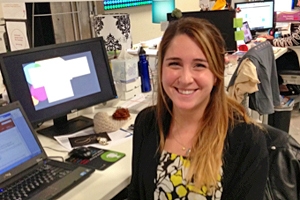 Below is a first person account from Dean's Intern Emily Falcone on her Dean's Internship at LivingSocial.
If there is one thing I have learned about LivingSocial during my time there, it's this: LivingSocial is not an online couponing service. It is much more than that. It is a local marketplace that houses the best deals and things to do in cities throughout the country. To me, LivingSocial has been a place for me to grow professionally and personally.
Public relations has always felt comfortable because it is a good professional fit for my best skills and personality. Before this semester, I had a wide range of internship experience, including non-profit public relations, public affairs, and sales. All of these experiences were related to my coursework, but not as closely as my time as the public relations intern for LivingSocial.
Normally, I would describe what an average day at the office is, but there is no such thing as an average day for the LivingSocial crew. One day, we could be managing media eager to learn about how to "vote" for Hello Kitty and the next we are searching for speaking engagements for LivingSocial CEO Tim O'Shaughnessy. Of course, I was also given the typical public relations duties, such as writing press releases and putting together media contacts, but the nature and language behind these tasks is different than anything I have done before.
This was one of the main challenges I have had during this internship. I was so accustomed to writing with academic language that it was difficult for me to incorporate the personal and charismatic voice that LivingSocial has embodied. After I while, I realized that there was inspiration throughout the office itself to remind the LivingSocial employees why we are all there in the first place.  The LED light fixtures and flat screen television sales projections serve has constant reminders of the LivingSocial mission: to provide consumers with the best deals and things to do in their cities.
Even though I was separated from the general LivingSocial internship program, the other members of the public relations department have done their best to make me feel like a member of the team, while still acting as teachers and mentors. They have taught me how to be a better PR professional and co-worker in general. Overall, I am very grateful for this experience that LivingSocial, the School of Communication, and Dean Rutenbeck have given me.