Alumni Success Story
Alum's Research Has a Good Beat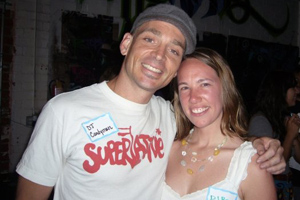 Is there a connection between hip hop and religion? Kimberly Williams, SOC/BA '00, thinks so. "The pastor studies his Bible so that he can weave together an appropriate message for his congregation, while the DJ studies his music so that he can weave together an appropriate song for his audience."
Williams' discovery came after years of living and volunteering in a low-income area of Oakland, California with an organization called Mission Year. 

A few years into her theology degree at Fuller Seminary, Williams took a class where the professor asked them to compare something in the Old Testament of the Bible to something in contemporary culture." I didn't know very much about music. So I asked some of my young friends to read parts of the Bible to see if it reminded them of any rap songs," she said. "They connected the scriptures to songs by rappers like Kanye West and Lupe Fiasco. We listened to the music and read the Bible together in order to find the comparisons." Williams said it was a learning experience for everyone because her friends were as unfamiliar with the Bible as she was with the music.  
After this assignment she started to make comparisons between other music genres and books from the Bible. "Eventually I decided that the role of the pastor had a lot in common with the hip-hop DJ," said Williams.  
Early in her research Williams found the LA Scratch Academy, a school for DJs. She interviewed Scratch Executive Director DJ Hapa and from their first conversation, Williams said, they were able to learn from each other's perspectives. For six months she sat in on classes at the school. "By sitting at the feet of the DJs, who are master communicators and listeners, I was challenged to evaluate how I interact with my own content and context."  
Williams says her undergraduate studies at SOC have benefited her research. "Most of the papers that I have written comparing pastors and DJs have focused on the fact that we are both communicators. Our content and our contexts are very different, but there are aspects of preparing and presenting our messages that we each excel in and can teach the other," she said. "I am so grateful for my background in communication, which has helped me recognize and nuance what we are both doing."

Williams received her Master's of Theology in 2009, and will receive her Master's of Intercultural Studies this June. Currently, she's working as the Program Director of a transitional home for homeless families. Williams said she'd love to continue her work with DJs. "I dream about putting together a documentary that would be helpful for both DJs and theologians," she said.