Alumni Success Story
Author Sheds New Light on Pulitzer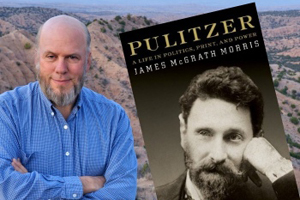 What project will find you traveling to Paris to claim handwritten journals, reading through Hungarian archives, and rummaging around a box rescued from a dumpster in 1970's St. Louis? If you are James McGrath Morris, CAS/BA '96, they are all a part of everyday primary source research for his newest biography. Pulitzer: A Life in Politics, Print and Power, documents the life of Joseph Pulitzer, the industrial revolution-era media baron.
Morris is no stranger to success in the biography genre. His previous book, The Rose Man of Sing Sing: A True Tale of Life, Murder, and Redemption in the Age of Yellow Journalism, was selected as a Washington Post Best Book of the Year in 2004. Morris feels the biography is an especially personal way to interact with history. His first rule on writing biographies: Choose your historical bedfellow well. You're going to be living together for a while. 
As a leader in the field, Morris is the editor of Biographer's Craft, a monthly newsletter, and a founding member of Biographers International Organization. As a former educator – including time teaching at AU - he also feels that biographies have an especially important role in connecting young people to history.
Although Morris first came to AU in 1975, he finished his undergraduate degree more than 20 years later, in homage to the Mark Twain advice of "never letting schooling get in the way of education." 
Thus, after starting his studies at AU, Morris spent time in Yugoslavia, and then became a journalist in New Mexico working first in radio, then print. The hourly deadlines gave way to daily and then monthly deadlines and then came the book business where there was just as much pressure, but no deadlines. As a publisher, Morris enjoyed helping provide a platform to launch a book and having that book touch people in new ways. Sometimes it goes straight to the top. His company published a book that Barack Obama cited as one that influenced his community organizing work.
At 40 years old, Morris decided he wanted to teach, so he returned to AU to complete his undergraduate education, knowing he would find support as a nontraditional student and have the chance to work with incredible faculty.
Morris attributes two themes that consistently arise in the reviews of his books, to skills he learned while studying at American: narrative drive and sound research skills. These he credits in part from his experience will stellar faculty, particularly Professor Joan Radner's comparative story telling course and Professor Terry Murphy's history classes.
On campus you most likely would have found him in the library.  There, one of his favorite experiences was finding a book someone else had marked up.In a career that has spanned from journalism to publishing to teaching to now writing full time, Morris believes there are very few professions that you get better at as at you age, and writing biographies is one. One day he hopes to find his books in the library... with your marks in them.
Come hear Morris talk about his new book at his book talk on February 16 in the Bender Library Mudbox.