Alumni Success Story
Learning Around the World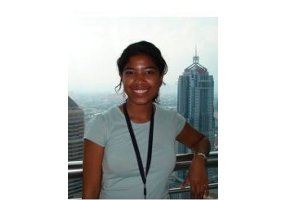 MA, Comparative and Regional Studies (Asia), 2007
Michelline Granjean currently works in the area of international education and exchange. She is a Program Assistant at the American Councils for International Education, working on various projects such as standardized testing reform in Ukraine and U.S. higher education advising in Eurasia and Central Asia. She is particularly interested in study abroad and international exchange programs and their role in promoting understanding between people from different parts of the world.
In the summer of 2006, Granjean attended the AU study abroad program in Southeast Asia. The program was held in Kuala Lumpur, Malaysia, where she took a course on globalization and held an internship at HELP University College, a prominent higher education institution.
While in Washington, DC, Granjean interned at several organizations, including the Brookings Institution's Center for Executive Education assisting with their seminars, including one that featured Robert McNamara and other scholars at the Smithsonian Institution's Center for Folklife and Cultural Heritage.
Granjean is originally from Chicago and spent some of her life in Guam.