Alumni Success Story
Student's Thesis Wins Oscar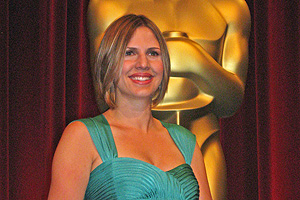 Narrated by actress Mia Farrow, As We Forgive tells the story of Rwanda's rebirth through reconciliation. Laura was one of four students nationwide to win a gold medal presented by the Academy of Motion Picture Arts and Sciences, which also makes her film eligible for the short documentary category of the Academy Awards. SOC professor and director of the Center for Social Media Pat Aufderheide advised Laura on the documentary, which was her thesis project.
"Laura Waters is the kind of student who enriches us all. Her film, As We Forgive, takes the many lessons she absorbed while at our program, and combines them with her own brilliance and insight. Laura has taught as well as learned," said Aufderheide.
SOC Dean Larry Kirkman said, "Laura's achievement only confirms what I have always known, that SOC has a superior documentary film program featuring some of this country's most talented young filmmakers." Hollywood Reporter agrees, praising our "strong, socially active documentary studies" in an article naming SOC one of America's top film schools.