Alumni Profile
TV News Trailblazer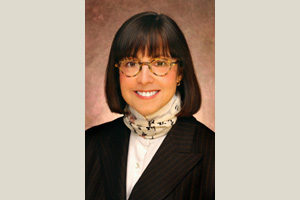 In December 2008, Susan Zirinsky returned to Washington for a special screening at the Newseum of Broadcast News, a film on which she had a personal take – the lead role, played by Holly Hunter, was based on Zirinsky's experience at the CBS News Washington Bureau in the early 1980's.
CBS News colleague Bob Scheiffer, on hand for the Newseum screening, called the romantic comedy a documentary, it was so true to Zirinsky's life at the time. Holly Hunter wore some of the young producer's clothes in the movie. And Zirinsky herself acted as technical adviser and associate producer of the James Brooks' classic.
Over the years Zirinsky's life could have provided material for more movies. She's produced coverage of epic news stories like the Tiananmen Square Massacre and the American's recapturing of Kuwait in the first Gulf War. She's covered Presidents Carter and Reagan and produced award-winning documentaries such as 9/11 for CBS and Three Days in September about the terrorist attack in Beslan for Showtime.  There's been lighter fare as well--Zirinsky has produced some specials for America's Next Top Model and Katie Couric's 2009 All Access Grammy Special.
In February 2008, she celebrated the 20th anniversary of 48 Hours, the third longest-running prime-time series on network TV, where she has served as executive producer since 1996.
Zirinsky joined CBS News as a weekend production clerk while still an SOC sophomore. Later--while still at AU--she was staking out the attorney general of the United States.

"I am proud of American and proud to be an alum of the School of Communication," says Zirinsky, who serves on the SOC Dean's Advisory Council,  mentors SOC students, and conducts a session at CBS for them during the SOC-AU Career Center's annual networking trip to New York.
"The landscape is very different today than it was when I graduated," she observes. "But SOC understands that to survive and thrive, you have to create an environment that's flexible and adapts to new technologies. No one does it better than SOC."