Government & Politics
SIS Scholar Examines Influence of National Security Commissions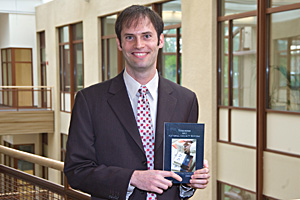 National security commissions have long been dismissed as political theatre. Used by politicians to avoid — or neutralize — scandals, these "blue ribbon" commissions make some noise but rarely lead to meaningful change.
Or so we thought.
School of International Service professor Jordan Tama is among the first scholars to challenge conventional wisdom around the efficacy of commissions. In his new book, Terrorism and National Security Reform—an exhaustive quantitative and qualitative study of 50 national security commissions since 1981—Tama demonstrates that they're often powerful vehicles for policy change.
Tama, now in his second year teaching at American University, found that commissions are most effective when they're formed in the wake of a crisis, like the bombing of the U.S.S. Cole in 2000. Commissions with political credibility are also more successful in implementing policy changes. When lawmakers on both sides of the aisle come together to forge a bipartisan consensus, "that sends a powerful signal to the country that their ideas are reasonable," explained Tama.
The book, which grew out of Tama's dissertation at Princeton University, includes case studies of the most successful commissions, including:

U.S. Commission on National Security in the Twenty-first Century (2001), which spurred the creation of the Department of Homeland Security
National Commission on Terrorist Attacks Upon the United States (2004), which proposed sweeping changes in the intelligence community in the wake of 9/11
Iraq Study Group (2006), which formed the foundation of President Barack Obama's plan to withdrawal U.S. combat forces from Iraq
Tama's research is based on interviews with more than 200 policy makers and commission participants, including James Baker, Richard Clarke, Warren Rudman, and Lee Hamilton, for whom he worked as a speechwriter. A research fellow at AU's Center for Congressional and Presidential Studies, Tama also built a database rating the effectiveness of all 50 national security commissions formed in the last 30 years—something which proved to be a challenge.
"How do you determine if a commission had an impact? There's no single, objective standard to measure that," he said.
So, Tama developed a rating system based on two measures: whether or not the commission's main recommendations were adopted within two years, and the 200 interviewees' assessment of the effectiveness of commissions. By combining the two, any political bias was averaged out, he explained.
Tama — who's now turning his attention to the influence of strategic planning exercises within the federal government — is among the first foreign policy scholars to question the role commissions play in the policymaking process. Tama said this is both a burden and a blessing.
"The burden's been on me to explain why this is an important topic, but it's also worked to my advantage, because I've been able to chart a new course in this field of study," he said.
"One of the purposes of good scholarship can be to reassess the conventional wisdom about issues . . . My findings are exciting because they refute this received wisdom."